In the past decade, we've witnessed the staggering growth of cloud computing. Although it's a relatively new technology, the cloud has quickly become the word on everyone's lips, and the momentum it gained is only expected to increase.
Chances are, you're already using cloud computing even if you're not aware of it.
But what is cloud computing?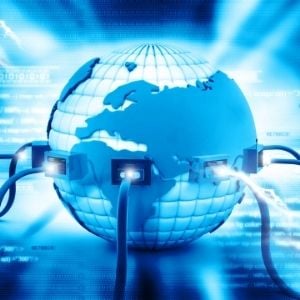 Simply put, cloud computing refers to the delivery of computing services – including servers, software, databases, storage, networking, analytics, and intelligence. These services are delivered over the internet, so users can easily access them by simply logging in from any device with an internet connection.
This allows multiple users to access a shared file or a program and collaborate from different locations in real-time.
Data storage is outsourced to outside parties and resides in secure data centers, offering more room for growth, more flexibility, and cost-effectiveness.
Cloud computing allows you to pay only for services you actually want to use. Services and software environments are subscription-based, requiring monthly payments instead of buying a license, which helps you lower the costs and scale as your needs change.
Moreover, as computing power is remote and not centralized, users have more room to tap into additional capacity if business spikes.
It can be easy to forget how businesses operated before cloud computing.
From manual software installations to clunky hardware, it wasn't always so simple to maintain IT infrastructures. Moreover, a failure or a loss of a single device could cause major issues for business and potentially even result in complete loss of data.
When cloud computing became widespread, it solved many issues workplaces used to face:
Large servers – With cloud storage, companies no longer need to house their own servers and keep massive hardware on-premise.
IT department – Companies no longer need to have a dedicated in-house IT support team to maintain their software and hardware. Tedious manual tasks such as updates and backups are automated thanks to cloud computing.
Limited access – Employees are no longer tied to the office and everyone can easily access important information regardless of their location. Cloud computing made way for seamless remote work and collaboration.
Manual backups – Employees no longer have to manually back up data on external devices, hard drives, and discs.
Outdated off-the-shelf software – Software updates used to be a huge task for IT teams that required a lot of time and resources. Not only did they have to be manually installed on every single device, but they also had to be replaced every few years, which meant buying a new version of software whenever it's released.
Data loss – Natural disasters and hardware failures used to be a serious threat to the company's records. Locally stored data was vulnerable to failures, but cloud storage eliminated these issues.
Duplicate versions of files – Constantly sending files via email back and forth made it difficult to keep track of different versions on different devices. Files stored in the cloud are automatically updated and the changes can be seen in real-time.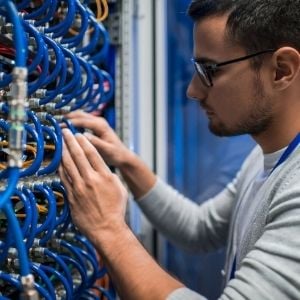 Old-school IT infrastructures have always been expensive and difficult to maintain. They required a daunting quantity and variety of software and hardware in order to keep them running smoothly. The maintenance of these infrastructures required dedicated IT teams, who were in charge of installing, configuring, testing, securing, and updating them. Needless to say, IT support teams also come at a high cost.
By moving to the cloud, you can eliminate all of these issues that come with storing your own data. It allows you to take advantage of shared infrastructures, only pay for storage and features you really need, easily scale up or down, and automatically update and upgrade software.
Cloud computing completely changed the game by offering solutions that are scalable, accessible, secure, and cost-effective and made outdated IT infrastructures a thing of the past.
There's a limited amount of time and resources a business can divide between all of its responsibilities.
If you're focusing too much of your attention on your current IT solutions and solving data-storage issues, you won't be able to work on solving other important issues and reaching your business goals.
Taking care of your entire IT infrastructure can be overwhelming, but opting for cloud computing and outsourcing IT hosting and maintenance can allow you to devote more time to other aspects of your business.
Here are some reasons why you should consider moving your business to the cloud.
Cost reduction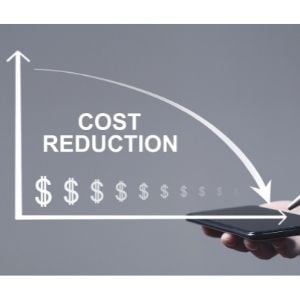 Implementing new technologies is usually something that comes with a hefty price tag.
Although making a switch to the cloud does require an initial investment, cloud computing will help you reduce the costs of maintaining and managing your systems over time.
Here are some more reasons cloud computing can help you reduce costs:
You don't have to pay for system upgrades and new hardware, they're usually covered by the cloud service provider;
you don't need to have a team of experts on your payroll;
you can reduce energy consumption and lower your electricity bill;
you should experience less downtime.
Instead of purchasing expensive equipment and setting up your own servers, you can take advantage of the resources your cloud computing service provider offers for a fraction of the price.
Once you switch to the cloud, you can pick and choose the features you actually want to use and avoid spending money on those you don't really need. Most cloud providers implement a pay-as-you-go principle, so you don't have to pay for the features you're not planning to use.
The pay-as-you-go principle applies not only to features but also to the data storage space, meaning that you won't be charged for any space that you don't need.
Scalability
You might be worried that opting for fewer features and less storage to reduce costs will prevent your growth in the long run. However, this shouldn't be a concern.
If your needs change as you go, you can also easily scale up or down and choose a plan that better suits your current requirements. As your business grows, you can add services, add users, add bandwidth, or even add more cloud service providers to accommodate growth over time.
Cloud computing offers more flexibility than hosting on a local server. If you need extra storage or bandwidth, you can instantly get them with a cloud-based service without undergoing complex and expensive infrastructure updates.
Scalability is one of the crucial benefits of cloud computing. Cloud environments are flexible and can be easily adapted as your needs change and your business grows.
This improved flexibility makes a big difference and can significantly improve the overall efficiency of your organization.
Mobility and accessibility
We couldn't imagine modern workplaces without web-enabled devices, and, as the number of these devices continues to grow, data has become more accessible than ever.
Cloud computing enables you to access your business at any time, wherever you are – all you need is a device with internet access.
As schedules get busier and remote work becomes more and more popular, mobility and accessibility are more important than ever. Cloud computing is a great way to make information easily accessible and make sure that everyone is in the loop.
Collaboration efficiency
Another major benefit of cloud computing is that the cloud environment allows for more efficient and streamlined collaboration.
As remote work becomes increasingly prominent, the ability to communicate and collaborate across different locations is more important than ever.
Cloud computing enables teams to remotely work on the same projects at the same time, from different locations, and easily access all necessary files, documents, and applications. You can also securely share files with third parties, contractors, and advisors.
Data loss prevention
If you still haven't invested in a cloud computing service, all of your data is tied to the device it resides in. Locally stored data is vulnerable to data loss and it can be difficult to keep track of manual backups.
This can cause big problems, as local hardware can be unreliable and prone to breakage, potentially causing data loss.
Devices can malfunction for many reasons, from viral infections to hardware deterioration over time, and these incidents are far more common than you might think. Furthermore, devices can get misplaced or stolen, along with your data.
With cloud computing, on the other hand, the data uploaded to the cloud will remain safe and accessible from any device connected to the internet, even if other devices break or get lost.
Business continuity
In order to ensure business continuity, it is necessary to protect your data and your systems.
Unfortunately, there are always some things that will be completely out of your control, no matter how careful you are. From device failures to natural disasters, there are many threats you need to keep in mind if your data is stored on-premise.
Downtime in your services can cause many negative effects, from productivity loss to reputational damage.
However, storing your data in the cloud ensures that your data is not only stored in a safe location but also that it can be quickly recovered in emergency situations such as natural disasters and power outages. This means that you'll be able to quickly access your data in case any issues arise and continue to conduct business as usual.
Security
When moving to cloud computing, many businesses have concerns about security. Keeping your data off-site and not having full control over how it's stored can seem scary, but it shouldn't be.
Keep in mind that it is one of the cloud provider's main responsibilities to keep your data safe and secure. Moreover, cloud providers usually use far superior technology to what most businesses use to keep data on-premise, so they are actually more reliable when it comes to data protection.
Access to automatic software updates
Organization-wide software updates can take a lot of time and resources. If your IT staff has to manually install and update the software every time, it can quickly become inefficient and costly.
Most cloud computing service providers offer automatic updates and, depending on the provider, this might even be included in your service fee.
Automatic software updates can save valuable time for your IT department and reduce the amount of money spent on outsourcing IT consultation.
Sustainability
Considering the current state of the environment, businesses need to take some serious steps to become more sustainable. In order to achieve real sustainability, businesses need to find a way to be less wasteful at every level of their business.
Cloud computing is one of the ways to become more environmentally friendly and reduce a company's carbon footprint.
Favoring virtual services over hardware and physical products, cloud infrastructures can help businesses cut down on paper waste, use energy more efficiently, and even reduce emissions due to employee commuting by enabling easy access to remote employees.
1. Choose the right cloud service provider
The first and the most obvious thing you should look into when choosing a cloud provider is reputation. However, while choosing a reputable provider is important, there are also other, more tangible factors you should consider.
Namely, you want to opt for a provider that operates with multiple data centers in different locations. That way you'll ensure that your data is protected against natural disasters, as well as geopolitical turmoil.
Next, you want to think about privacy, security, and regulatory compliance. Your cloud provider should have clear data protection and data classification policies and procedures put in place and comply with relevant laws and regulations.
Another important factor to take into account is payment arrangement. Most providers offer on-demand services and operate based on a pay-as-you-go model. This is the best option as it can easily accommodate variable demand and you can avoid paying for services you don't actually use.
Lastly, you want to choose a company that seems stable and financially strong. You want to think about the long-term relationship and opt for a company that's likely to stay in business in the long run.
2. Optimize security
It's crucial to evaluate your existing IT security policies and scan vulnerabilities before entering a relationship with a cloud service provider.
Typically, cloud service providers have better control and more cybersecurity expertise and resources than in-house IT departments.
It is their full-time job to monitor cloud infrastructure and their success depends on managing to keep your data secure. Nevertheless, you should discuss how and when your cloud service provider will handle and report failures and security breaches if they do happen.
3. Prioritize data protection
One of the most effective ways to ensure data protection is by restricting access. But before you do that, you first need to classify your data by sensitivity.
Each type of data should be handled according to the level of risk unauthorized disclosure would present. That's why it's essential to know exactly how and where your data is stored and who has access to it.