Definition
While elements of Sales Engagement Platforms (SEPs) have existed for over a decade, true SEPs began to take shape as a formal market and clearly defined service around 2014. The initial services were focused on Sales Development Reps (SDRs) but have expanded to cover a broader set of sales and marketing use cases.
SEPs add multi-channel engagement tools and communication analytics alongside CRMs. While CRMs continue as systems of record, SEPs provide a system of engagement that live alongside CRMs and manage lead prioritization, communications, and analytics. Thus, sales reps are shifting from the CRM as their primary platform to SEPs. The SEP serves as the primary communications and planning/prioritization channel for the sales rep with ongoing activities synced to the CRM. This transition allows the sales rep to shift his or her focus from Accounts, Contacts, and Leads to sales messaging and communications. Sales activities are then mapped back to the CRM.
SEPs provide inbound and outbound communication channels, cadences, and analytics for empowering sales reps. Key features include email templates, cadences, dialers, analytics, sales coaching, lead prioritization, and CRM synchronization.
SEPs were initially adopted by Enterprise to mid-size clients and are now gaining traction among smaller companies. SMBs can choose full-service solutions or more limited, lower-cost services.
Value Proposition
Sales Engagement Platforms help sales reps become more effective and efficient at selling. Efficacy gains mean that reps can more successfully sell through opportunity prioritization, improved messaging, and a better understanding of the customer and his or her needs.
Sales Engagement Platforms help sales reps prioritize tasks, maintain consistent outbound messaging via cadences, and mix multiple communications channels to find the best way to reach out to a prospect.
Prioritization ensures that sales reps focus on high-leverage opportunities. SEPs dynamically adjust priorities throughout the day based upon time of day, day of week, business signals such as lead behavior, and urgency (e.g. web form submissions). Sales reps are provided either a priority queue or a lead action list from which they determine next steps. Reps no longer need to ask, "which opportunity have I been ignoring?" or "have I called into this account recently?"
SEPs help ensure lead persistence. By automating next steps and building cadences around leads, sales reps are no longer determining whether an MQL (marketing qualified lead) is worthy of their time. Likewise, they are not giving up too early on a lead simply because there is no initial response. These sales behaviors are two of the chief causes of friction between sales and marketing.
SEPs help reps manage and refine sales messaging through email templates, playbooks, scripts, and snippets (blocks of content that can be quickly inserted into emails). A/B testing and ongoing customer feedback (e.g. email open, clickthrough, and download rates) help determine which are the most effective emails and templates. Science isn't replacing the art of selling but is being deployed to refine the art of sales.
SEPs also reduce research time by providing on-demand lead and account intelligence, recommended content, and next best actions. Reps no longer need to jump around the web to understand contacts and the companies for which they work.
SEPs reinforce best practices through templates, snippets, and call scripts. Reps no longer need to begin each message as a blank slate and worry about
Determining which subject to employ
Composing a full email
Inserting graphics, calls to action, hyperlinks, and attachments
Instead, the rep begins with a high-performing email template. He or she can then focus on personalizing the email with a few extra sentences or recording a short, embedded video. The goal of personalization is to signal that the message isn't a Marketing Automation Platform (MAP)-based email, build a relationship with the prospect/client, and include key details related to the individual prospect.
The broad set of captured metrics and analytics assist sales operations and sales managers in assessing key questions such as
Which messages are most effective?
Which sales reps have adopted best practices and which ones require additional coaching?
Which opportunities are in jeopardy and why?
These tools help sales managers coach reps both at the individual deal level and more broadly. For example, the SEP may highlight that the rep does a poor job of defining next steps, that an opportunity lacks key members of the buying committee, or that the rep dominates calls instead of allowing prospects to speak.
On the cutting edge of sales engagement is meeting intelligence and analytics. This may be as simple as calls being recorded to a full set of call transcription and analytics services. As analytics advance, much of the note-taking will be simplified or eliminated, allowing reps to be more present during calls. Meeting analytics will also ensure that next steps are being followed, capture key points during the call for follow-up or review (competitor landmines, pricing, open technical questions), and analyze the call flow for coaching pointers.
Efficiency gains mean that many of the time-consuming non-sales tasks are reduced or eliminated, allowing sales reps to focus on what they do best – building relationships with customers, communicating the firm's value proposition, and moving deals efficiently through the pipeline.
SEPs capture communications and dispositions, reducing the time required to document communications. The who, what, and how are automatically recorded with reps only needing to enter disposition codes and short notes. The information is immediately synced with the CRM. Follow up steps are quickly recorded or automatically determined (e.g. continue to the next cadence step after leaving a voice mail).
SEPs also assist with appointment scheduling. Sales reps can quickly setup a call, include third parties, and fire off a confirmation message to leads. They can also forward potential call times to leads and allow them to accept their preferred window. Before the call, a reminder is sent to the prospect or customer, helping increase the likelihood of the prospect or lead joining the call.
Finally, sales reps are more effective due to new channels and tools built into their workflows. These include social messaging via LinkedIn SNAP connectors, personalized messaging via integrated 1:1 video, and chat tools for inbound and outbound messaging.
Core Features
Sales Engagement Platforms provide multi-channel communications tied to cadences. Some vendors use the term o w or sequence instead of cadence, but all three terms refer to the same set of automated processes. A cadence is a set of communications steps including email and phone which follow a discrete schedule. Other steps include social (generally LinkedIn Sales Navigator), SMS, chat, and direct mail (through third-party partners).
Email is supported as a set of templates associated with cadences. Dynamic variables are populated from the sales engagement platform or CRM. Templates generally support rich text messages with graphics and attachments. Because they are pre-written and tested, they both reduce the time required in sales messaging and are more likely to drive opens and click-throughs.
Most vendors recommend a limited set of personalization (around 20%) to help build the relationship and display authenticity. Sales reps can either write short messages with a hook (e.g. congratulations on winning an industry award, venture funding, new product launch) or insert snippets of pre-written text which is customer-specific (e.g. verticalized features, locally hosted events).
Unlike Marketing Automation Platforms, Sales Engagement Platforms generally send scheduled emails to one or a few contacts at a time but with personalization. The sales rep invests a few minutes in customizing the message but gains higher clickthrough and open rates. Personalization also helps establish the initial relationship between the sales rep and the prospect.
Embedded videos with thumbnails can be included in emails. Embedded videos are generally short and intended to capture prospect attention. Videos can be either professionally developed by marketing or recorded at the desk by the sales rep. According to Vidyard, 1:1 embedded videos double or treble open rates.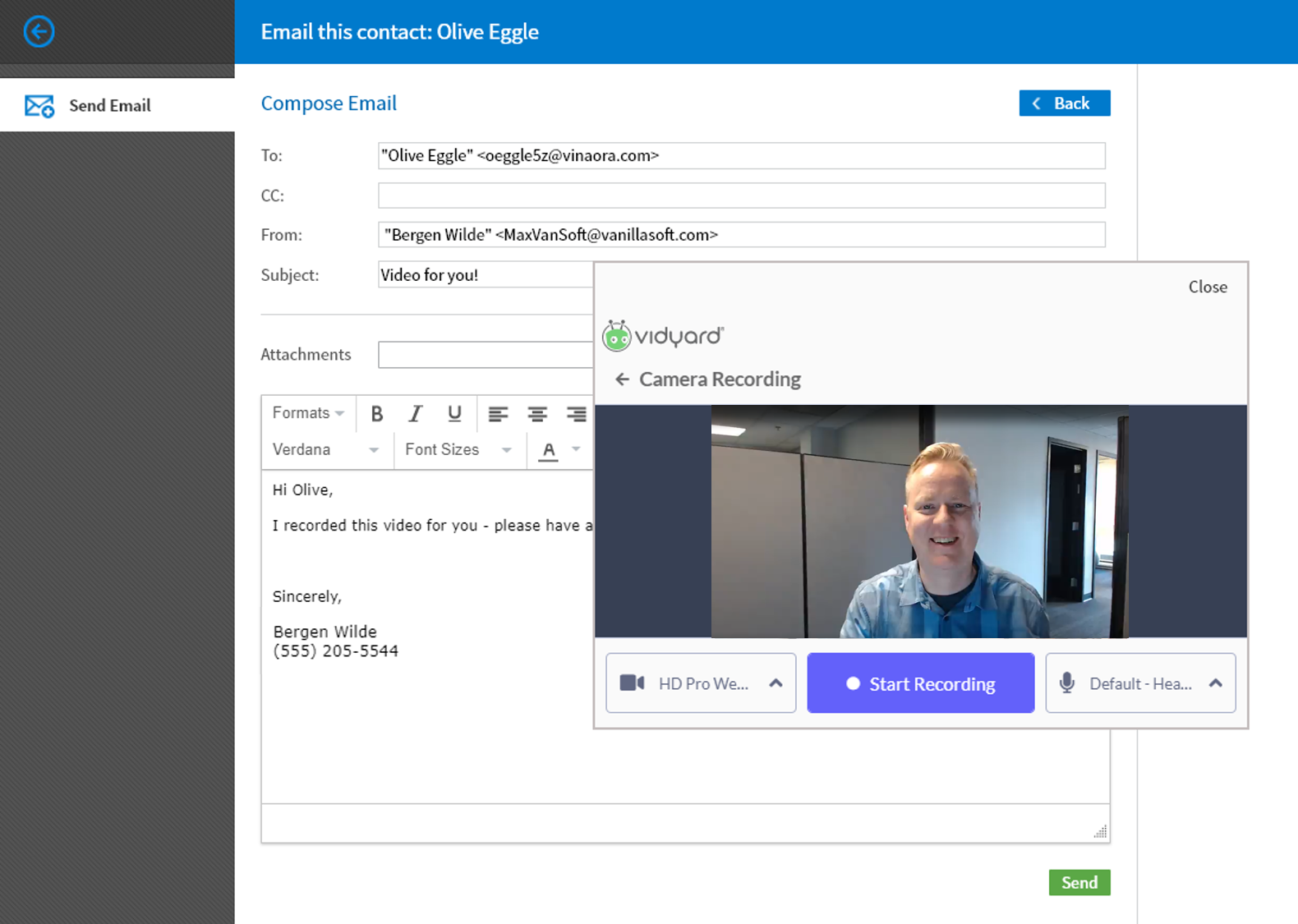 Figure 1: Vidyard GoVideo is available as a freemium service in many SEPs (Source: VanillaSoft).
Analytics capture email open, click-through, and download rates, providing insights into which emails are most effective.
Sales Engagement Platforms support Voice over IP dialers of various types. Click Dialers allow the sales rep to click on the phone number and the phone is automatically dialed. Some vendors extend the click dialer to Salesforce.
Power Dialers work off a list or queue with the next call placed when the previous call is completed. Basic information about each company and contact is displayed on the screen as the call is dialed. Because calls are automated, reps can place more calls than if they are manually selecting which calls to dial.
Dialers usually support voice mail drops. If a call is not picked up, reps have the choice to leave a pre-recorded message (and immediately proceed to the next call) or leave a personal message.
Upon completion of a call, sales reps enter quick notes along with the call disposition. The disposition indicates next steps (e.g. Do not call back, meeting scheduled, call back tomorrow, etc.). This information is stored in the Sales Engagement Platform and synced with the CRM. Automated dispositioning streamlines the task creation process and improves cadence tracking and lead persistence.
Best-in-class SEPs support Local Presence which displays a local phone number. While this is a common practice for business and consumer telemarketing, it is also a trick commonly employed by robodialers and should be evaluated on a case-by-case basis. If you are employing ABM, then you are calling into a small number of high-leverage opportunities. Local Presence may create an initial feeling of distrust which generates a rocky relationship with the sales rep. Conversely, if you have many locations around the country and you are selling to a broad universe of companies, the practice may improve call pick-up rates.
Scripting and playbooks are another compelling feature of SEPs. Linear scripts are likely to be of limited value as calls do not generally follow a script from beginning to end. Consider solutions that offer branched scripts which allow the discussion to evolve based upon lead responses. Scripting should also support data collection. For example, the rep could ask about installed technology, potential number of users, or target dates.
Many dialer services include call whisper and call join. With these features, managers can listen in on calls and whisper advice to reps. They can also join if the sales rep requires assistance. Conversely, new hires can listen in on calls as part of their training.
Many platforms support A/B testing to determine the relative efficacy of various cadences, templates, or scripts. A/B testing splits an audience in half and presents alternate versions of messages or cadences to prospects. For example, alternate email subjects, text, or graphics may be presented to determine which one results in higher open and click-through rates.
SEPs typically provide a host of analytics, dashboards, and reports which help determine the efficacy of your tactical sales elements for sales operations review. There should also be reports at the individual and team level for measuring sales results, pipeline, and new rep performance progress. Some solutions include metrics which call out best practices and the strengths and weaknesses of each rep. Other tools include leaderboards and support for sales contests.
SEPs are beginning to infuse AI and natural language processing tools into their service. It should be noted that AI is only as good as the data size and quality of the underlying data set. As a result, Enterprise-sized organizations that have implemented an ongoing data hygiene solution (e.g. Lightning data vendors in Salesforce) will benefit the most from these capabilities. Examples of AI tools include
Determining the best time of day or day of week to call each lead
Prioritizing leads and ensuring the next best lead is called. Prioritization is based upon both the quality of the lead (fit, behavior) and timeliness (inbound vs. outbound, channel).
Chatting with inbound leads via bots or SMS. This feature includes prioritizing and routing leads based upon the prospect (e.g. Active leads, customers, and ABM prospects are given higher priority than weak fit prospects). At the front end is often an automated bot which handles initial questions and determines whether the person is looking for sales, general customer, or technical support). The bot also matches an IP address, cookie, or email to information about the lead (biographic and firmographic) to assist with scoring and routing. Chat is generally supported through third parties such as Drift, Ramble, and Intercom.
Scheduling and rescheduling leads with automated reminder cadences.
Joining, recording, and transcribing calls. Transcripts are indexed and analyzed by AI tools to provide a set of coaching tips. For example, the AI may find that the sales rep is using too many filler words, dominating the conversation, or failing to set next steps. The conversation is displayed as a visual timeline indicating where each party spoke. The transcript is fully searchable so reps or managers can jump to discussions on objections, pricing, competitors, features, next steps, etc.
There are two primary approaches to connectors:
A limited set of vendors are available through the platform. Usually this consists of email (Gmail and Outlook), CRM (Salesforce), Social Media (LinkedIn Sales Navigator SNAP) and Video (Vidyard).
A broad ecosystem of application partners providing multiple vendors from which to select in each category.
Outreach and SalesLoft provide full app directories which list vendors by category. These directories are akin to SalesLoft AppExchange and Marketo LaunchPoint and provide the ability to tailor the SEP with additional communication tools, functionality, and analytics.

Partner service pricing may be free, freemium, or joint licensing, so it is worth researching the integration pricing of key vendors. If you are already licensing a partner service, then you will probably not be charged an additional fee for the connector, but you should confirm this with key partners.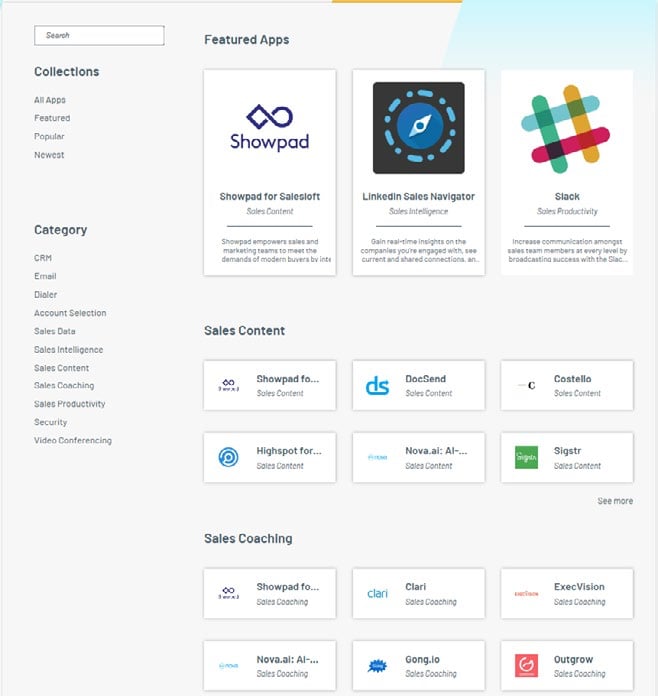 Figure 2: SalesLoft App Directory
Partners can add significant value to the SEP. For example, data from Vidyard indicates a 2-3X lift in open rates when a short, personalized message is included in an email. Integrated tools include content management, signature management, sales intelligence, sales coaching, appointment video conferencing, and security. There are even swag vendors for delivering small gifts with notes (e.g. PFL, Sendoso, and Alyce) which are available as cadence steps.

Vidyard GoVideo is available on a freemium basis. Users have limited access to the service at no charge, but regular users looking to embed more than five videos per month and remove Vidyard branding can license the Pro version for $80/month.

Likewise, embedding Sales Navigator tools in the SEP assists with messaging (icebreakers, news), relationship building (connections), cadences (InMail as an additional step/sequence), and identifying additional contacts at a firm (recommended leads). The SNAP functionality is similar across SEPs, but not all vendors have integrated LinkedIn as a formal social step within their cadences.

There is no charge for the LinkedIn Sales Navigator connector, but users must separately license Sales Navigator ($64.99 per user for the Professional service and $103.33 for the Team edition when paid upfront).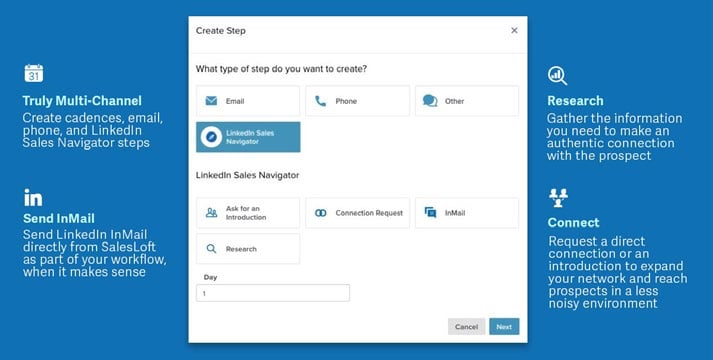 Figure 3: If your sales reps use Sales Navigator, determine whether the vendor's integration supports social cadence steps.
Most SEPs support Salesforce, but only a handful support other CRMs. If you do not use Salesforce, then look for an SEP which supports your CRM. Much of the value of SEPs is in their ability to transfer data in real-time, both ways between the SEP and the CRM. Bisynchronous communications ensure that both platforms display the same information. Adds and edits to records in one platform should flow to the other. Likewise, the CRM should reflect all SEP activity.

Several sales intelligence vendors support SEPs (e.g. Zoominfo, Owler), but the functionality is generally sending leads to the SEP individually or in bulk. Currently, no vendors are providing continuous hygiene services directly with SEPs, though some provide ongoing Salesforce Lightning Data services which should sync with your SEP. Sales Intelligence vendors generally are sold as standalone services with no charge for the connector. Pricing is on a per seat basis for sales reps and either a Salesforce seat or volume price for Lightning Data.

One recent exception is VanillaSoft, which acquired contacts database Autoklose in 2020. The database will be fully integrated into VanillaSoft in 2021. Apollo.io also combines a contacts database and SEP.

Conversely, some of the Sales Intelligence services (e.g. Zoominfo, Cognism) are offering light Sales Engagement functionality focused on cadences.
Other Features
Inbound lead management is not as well supported as outbound. If you have a significant number of inbound leads, then you should pay careful attention to inbound capabilities. All SEP solutions should be able to route inbound leads to sales reps by territory rules, previous account assignments, or on a round robin-basis. Best-in-class solutions will provide extensive filtering capabilities to determine lead priority and appropriate rep assignment. Inbound leads should be placed at the top of the rep's queue as the lead has indicated an interest in speaking with a rep. If a rep does not contact the lead within a configured period, then the system should begin a cadence with an email. Likewise, web leads should also be properly routed and placed at the top of a rep's queue. All inbound activity should be synced with the CRM with inbound calls tied to existing leads within the SEP and CRM. Inbound calls should result in a screen pop which notifies reps that a call has been returned.
Some SEPs can interrupt existing cadences based on buyer intent triggers. Buyer Intent triggers (e.g. somebody looks at your profile on G2.com) should 'trigger' an inbound action that is routed to a rep and interrupts existing cadences. The ability to react to external triggers allows the cadences to be dynamic and support "speed to lead."

If you have field sales reps, then evaluate Mapping tools. These tools help field sales with trip planning by identifying prospects along driving routes or near customers/ prospects. They help improve the ROI of travel by flagging additional opportunities and by proposing the best travel route to reduce travel time.
Industry Pricing
Low-end software runs under $50 per seat, but often only supports basic communications tools. Full-service vendors run around $75 per user per month at the low-end and $130 at the upper end. Additional fees may apply for
Unlimited US Calling
International Calling
Onsite Training
Implementation Services (Customization, Template and Cadence Development, configuring connections between the SEP and other platforms)
Additional costs for third-party vendors should also be considered. For example, if you choose to add 1:1 video or sales enablement platforms, freemium service should be viewed as a free evaluation. Once you have established the value of these tools, you would need to license the service directly.
While a few SEP vendors are transparent about their pricing, most full-service SEP vendors do not provide pricing. A good source for pricing intelligence is G2.com.
While most vendors require annual contracts, some support month-to-month purchasing options which allow firms to kick the tires or conduct a scheduled rollout across sales teams.
The VanillaSoft sales engagement platform helps sales organizations improve their sales efficiency while making sales reps more effective. VanillaSoft supports standard sales engagement features including email templates, cadences/sequences, autodialing, call recording, scripting, appointment setting, lead routing and SMS marketing.

VanillaSoft emphasizes that their workflow is based on a queue system instead of a list system. VanillaSoft claims that a queue-based process results in few leads being ignored or only receiving one or two touches. It also ensures that the next best lead is presented to sales reps throughout the rep's shift. Thus, web-based leads are immediately called and calls move up or down in priority based upon the time of day at the prospect's location.

The primary function of the queue is to serve up the next best possible lead first (i.e. priority-based outreach). The queue removes task prioritization by the sales agent and subsequent management of all follow-ups (as they are put into the queue and are presented to the agent when it is time to follow-up). Thus, the priority queue ensures management-mandated lead prioritization rules are instantly reflected in the activity of the agents, and eliminates their ability to cherry-pick through the leads.

The priority queue also removes annoying follow-up alerts and pop-ups as the queue automatically serves up follow-up actions when they are the "next best lead".

The priority queue is dynamic, allowing for real-time adjustments based upon event triggers. These include web forms submissions, job title, industry, prospect from a named account, buyer intent data, user behavior, website visit, chat request, third-party integrations, etc.

CRO Darryl Praill provided the following explanation of the difference in workflows:
"Traditional applications such as Salesforce.com present users with a list of tasks and to-do's when they log in. That list may be prioritized by a user-defined filter (i.e. Highest lead score to lowest lead score). In a list-based UI, the user has the ability to "cherry-pick" which leads to engage with. That means many leads never got contacted or only get contacted a few times. This explains the industry stats of 48% of new leads never being called and the average lead only being called twice despite other stats stating you need to contact a lead at least 6-8 times to make a connection. All of our competitors use this same list-based approach, which means their cadences/sequences/playbooks are no more reliable than a CRM. We call their cadences static because the list only changes if the user forces a refresh (i.e. log out then log back in). VanillaSoft does not use a list, rather we use a Queue. The Queue will move a hot lead straightaway to an agent for immediate attention, which is consistent with all research that shows responding to a new lead within the first hour results in dramatically higher engagement and success outcomes."
VanillaSoft is headquartered in Plano, TX with a global presence and representation in multiple countries.

VanillaSoft maintains additional sales and customer support offices in Ottawa, Canada; Boston, USA; London, UK; and Belgrade, Serbia. They are a direct sales organization.

The company has almost 1500 customers. Over the past year, their Annual Recurring Revenue grew 32%.

VanillaSoft solves the following problems:
Who needs sales coaching – Reports and call transcripts help identify when reps require assistance.
Ramping new sales reps – Logic-branch scripting allows reps to read call scripts which branch logically based upon prospect responses or objections. Upon completing a call, a result code ensures that calls are properly categorized and associated with the proper contact record.
Data collection – Scripts may be designed to support data collection. Reps record opportunity and account data as they go through the script.
Low deal volume – VanillaSoft's Sales Engagement tools support a higher volume of customer touches across multiple channels. According to VanillaSoft, "Our queue-based system speeds up how quickly hot leads are contacted, supports multi-channel outreach (phone, email, SMS), and our workflow cadence control ensures that more leads are contacted, resulting in more closed deals."
Low prospect engagement – Managers define the outreach cadence ensuring that leads are not abandoned too early. Cadences support a mix of telephone, email, and SMS touches.
Lack of appointments – See low deal volume
Insufficient prospect conversations – The queue-based system automatically presents the next call as soon as the previous call is completed. Calls are prioritized by a set of rules defined by sales operations. Calling is supplemented by email and SMS messaging.
Failure to follow sales methodology – VanillaSoft guides the sales agent through the sales process workflow from the initial call to the close. Managers control the lead priority, the script, the email/SMS script, call results, and the cadence. Users make the call, then click on a result. The pre-determined workflow based on the contact result codes ensure that the sales agents stick to the sales process.
Speed to Lead – Queue-based lead routing places the hottest leads at the top of the queue with inbound web leads given top priority and routed to the next free sales agent.
Cherry Picking – The queue-based lead prioritization and routing removes agent bias from the decisions about which leads get contacted first.
Win rates – Lead routing ensures that the hottest leads are contacted first and that leads do not fall between the cracks. Customized cadences ensure that reps do not give up too early on prospects.
Sales Intelligence – Customers can directly purchase leads from within VanillaSoft when they need to top-up their lead funnel.
Personal Sales Nurturing – Agents can send emails from their personal account to prospects that are not ready or were not responsive to the more aggressive, multi-channel cadence.
Target Verticals
While VanillaSoft is fully capable of supporting technology companies, it is not overly reliant on the tech sector for revenue (18%). This means that the firm is well positioned for the next recession. The diversity of their verticals and use cases supports unique deployments beyond the tech sector.

VanillaSoft targets a broad set of verticals (links are to verticalized web pages):
VanillaSoft is used by companies of all sizes but focuses on the SMB market.
VanillaSoft is designed for hierarchical sales organizations with management defining lead prioritization, cadences, and scripting. This makes it easy for sales execs to shift priorities on the fly and implement them immediately. For example, management could quickly shift sales priorities from selling the broad product line to emphasizing a popular or newly launched product.

VanillaSoft customers are more value-oriented and tend not to be early adopters of technology, looking to take few risks. As SMBs, they are often resource-constrained and have few on-staff IT resources to assist with SEP implementation and integration. As such, they have relatively flat technology stacks, but are looking for solutions that will grow with them.

VanillaSoft customers tend to have a high turnover on their sales staff with a high percentage of lower-level, inexperienced sales reps. As such, they are looking for technology solutions that are easy to use and deploy and that enforce standardized processes across the full customer lifecycle.

VanillaSoft customers view the phone as a crucial communications channel, while Autoklose supports SMBs focused on email communications. As customers grow, they can migrate from Autoklose to VanillaSoft, while maintaining the same underlying leads vendor.

In 2021, VanillaSoft will be introducing verticalized "skins" to their user experience. These skins will customize the content and functionality by industry. They are beginning with education/fundraising and Insurance.
Target Job Functions
VanillaSoft offers tools for a broad set of job functions:
Inside Sales benefit from streamlined sales tools which include queue-based routing; automatic, progressive dialing; Email/SMS marketing and nurturing; and workflow and cadence automation.
Telemarketers benefit from queue-based routing; progressive auto dialing; dynamically branching call scripts; and appointment setting software.
Outbound Call Centers benefit from progressive or preview dialing; a call-activity dashboard; queue-based routing; voicemail drops; and logical branch scripting.
Inbound Call Centers benefit from inbound screen pops; ACD queues; hot line transfers; and SMS messaging.
Distributed Call Teams, particularly those required during COVID-19, were supported by VanillaSoft's cloud-based SaaS model. After the pandemic, many firms are looking to maintain Work from Anywhere models that support distributed teams.
Sales Operations lead management tools include full lifecycle lead tracking; lead routing and distribution; a call activity dashboard; lead campaign and sales rep performance analytics; data querying; lead scoring; and inbound lead capture and routing with new leads placed at the top of the queue.
Fundraisers benefit from queue-based lead management, custom workflows, and logical branch scripting for telefundraising. Other tools include automatic data collection, email marketing, queue-based routing, and interactive scripting. Month-to-month pricing with no long-term commitment ensures fundraisers only pay when the system is in use during campaign seasons. Fundraisers also benefit from VanillaSoft's campaign design flexibility that allows them to run different value campaigns rather than simply "donate money" (e.g. Information, volunteer requests, event updates).
Sales Management employs reporting to identify which employees are meeting targets and which ones are struggling. Current performance can be compared to historical results. Live call monitoring allows sales managers to coach sales reps on what they are doing and how they can improve. By linking leads with the CRM, lead status and pipeline details are continuously updated. According to the firm, "VanillaSoft is ideal for top-down sales management structures as sales reps call the leads that appear in front of them rather than cherry pick from a list." Management defines lead routing and prioritization rules.
Marketing can upload approved content that sales can attach to outgoing messages. Marketing also has access to custom field and script results which help them better understand personas, identify pain points, and refine marketing strategy and spend.

Vanillasoft describes its target customers as "Anyone focused on rapid and persistent engagement with prospects – primarily through phone but via email and text as well. Users typically have the title of inside sales, sales development representatives, fund raisers, and telemarketers."

This is a broader universe of use cases than supported by most Sales Engagement platforms.
Reference Customers

Cadences / Sequences
VanillaSoft supports email drip campaigns for lead nurturing and marketing email campaigns against audience lists.

Sales cadences can be setup for email, SMS text, and phone calls. The cadence could require the sales agent to take manual action (call, email, text) but emails and texts can be configured to send automatically. Actions can also be combined. For example, the second follow-up could be a call and email with the email sent upon completion of the call (so called "double taps").
Upon completion of an action, a result code is entered by the sales rep or agent. The result code automatically manages multiple tasks for the agent and triggers subsequent actions such as:
Documenting the result of the outreach
Immediately sending a follow-up email after a call
Scheduling a follow-up at the time dictated by the cadence (same day, next day, etc.)
Determining the channel to use for the follow-up
Whether to drop the lead to the bottom of the call queue.
Set an appointment.
Remove from the queue as "lost."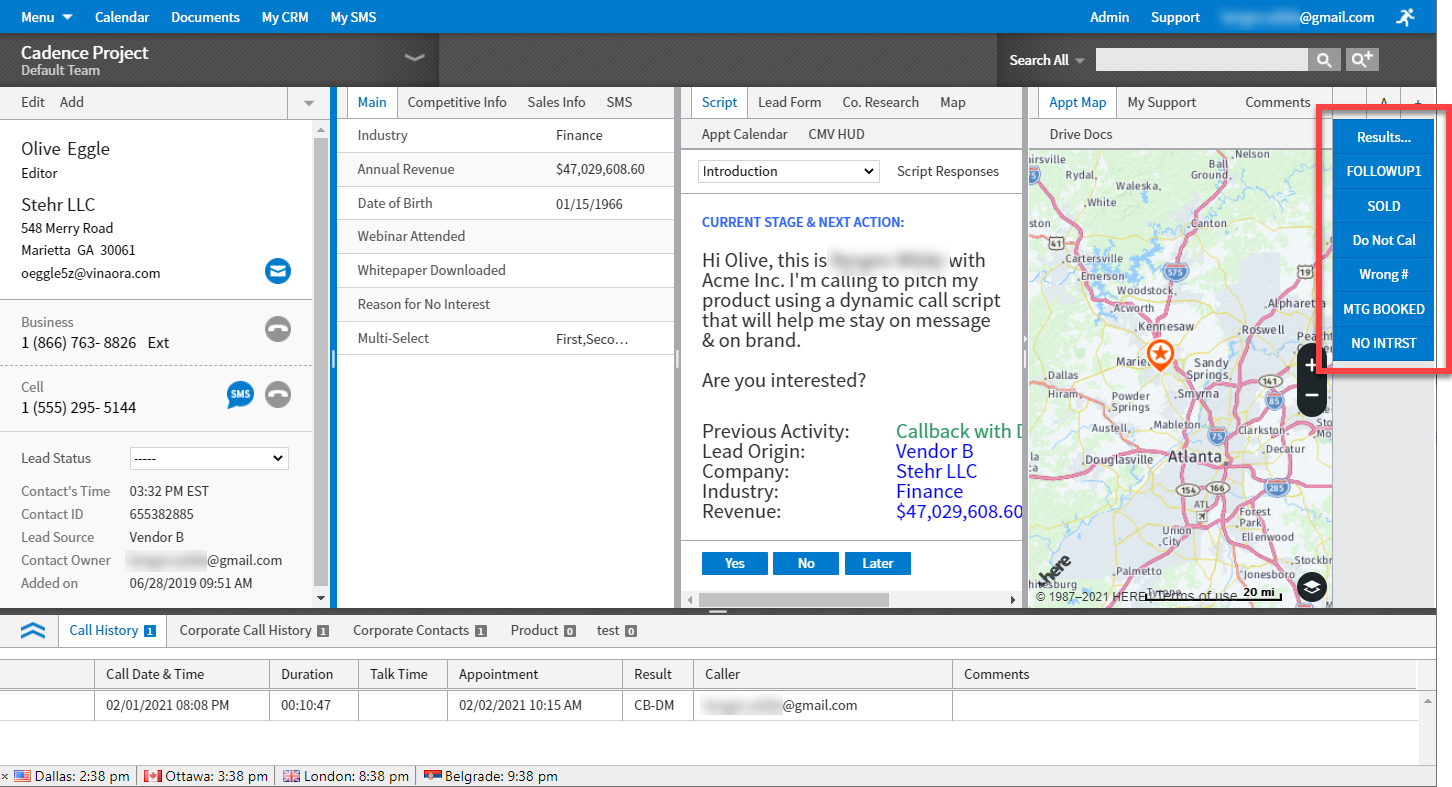 Figure 1: Result Codes allow the sales rep to quickly define the next action to be taken.
Unique cadences in VanillaSoft can be established for each team within a project. Agents can be switched between teams which could therefore mean a change in cadence (if the admin has set up each team with a different cadence). The administrator can set up as many teams and cadences as required.
"Generally, access to different cadences by the callers is limited," said VanillaSoft. "It is our philosophy that the sales management knows best what to prioritize and how best to engage the prospect. But even if they do not, the more consistent the callers are in using the same cadence the better the result tracking, analysis, and improvement of the cadence."
Email
VanillaSoft supports templates for both emails and SMS texts. The HTML templates auto-populate contact information from VanillaSoft. A document library provides sales and marketing users direct access to content assets.

Rich-text emails may be sent through Gmail, Outlook.com, and MS Office 365. Features include unsubscribe support, images, and attachments. Partner integrations include Vidyard GoVideo (embedded 1:1 videos on a freemium basis) and DocuSign contract management.

Email tracking is limited. While VanillaSoft captures opens, bounces, and unsubscribe, it does not track email forwards, linked content viewing, or times email opened (several of these features are on the H1 2021 roadmap).

Emails may be part of cadences or sent in batch.

Emails are stored with contact records.

Inbound email support is planned for Q1 2021.
Dialer
VanillaSoft supports a broad set of digital and analog phone dialers including Skype, X-lite/eyebeam, Magic Jack, PBXs, Vonage, and Ring Central.

VanillaSoft also offers its own VoIP dialer which supports one-click voicemail drops, SMS texting, and both a progressive and preview dialer. Progressive dialing automatically places the next call and displays the call record as soon as the previous call is dispositioned.

The preview dialer displays the next call and allows the caller to review the record prior to the caller clicking a click-to-call button or click to email button. The contact screen displays company and contact details, call history, call scripting, a notes box, and result code buttons.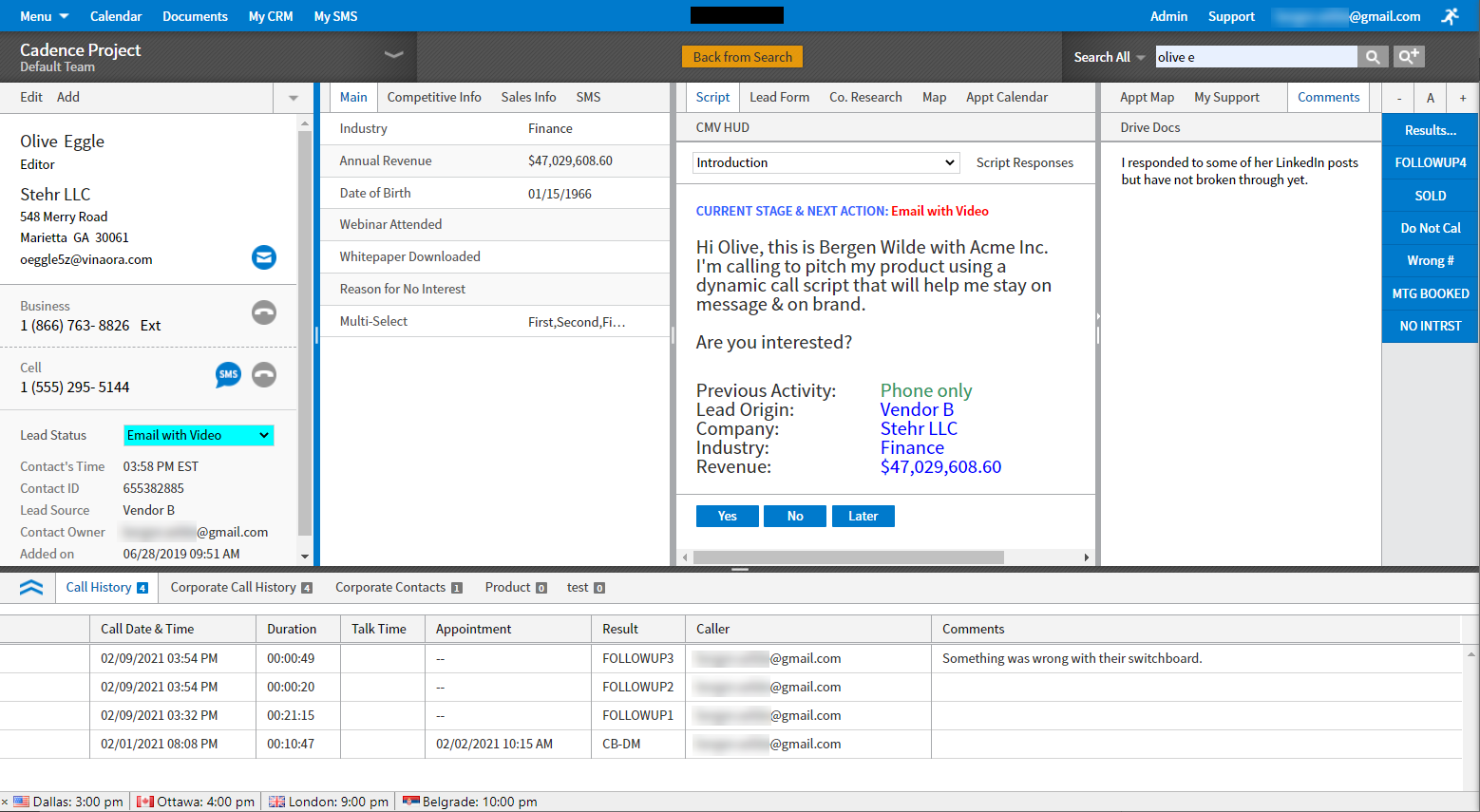 Figure 2: 4-panel lead view with lead overview, call history, call script, a notes box, and result code buttons.
Agents can see who is available, transfer calls, or instant message with other agents. A supervised transfer may be performed which can result in a hot transfer, cancelling the transfer, or setting up a three-way call. Other features include start/stop call recording, supervisory call monitoring, and supervisory spy mode (listen in on a series of calls from an extension until hanging up).

Both analog and digital calls may be recorded with playback to any web location and storage on any device. Recordings are attached to lead records and filterable by date, caller, or status.

Users can drop a pre-recorded voicemail with a single click.
Call Scripting
Call-scripting software supports dynamic branching, allowing the sales rep to handle various responses and objections while still sounding natural. Scripting pulls in lead data so that the rep stays on script. Sales or marketing operations can build in objection handling and competitor details to assist with managing landmines, parrying competitor arguments, and highlighting key differentiators.

Script responses can be immediately captured and keyed into custom fields, allowing for the direct collection of lead intelligence.

Custom fields are available for reports, data segmentation, and scripts for data collection.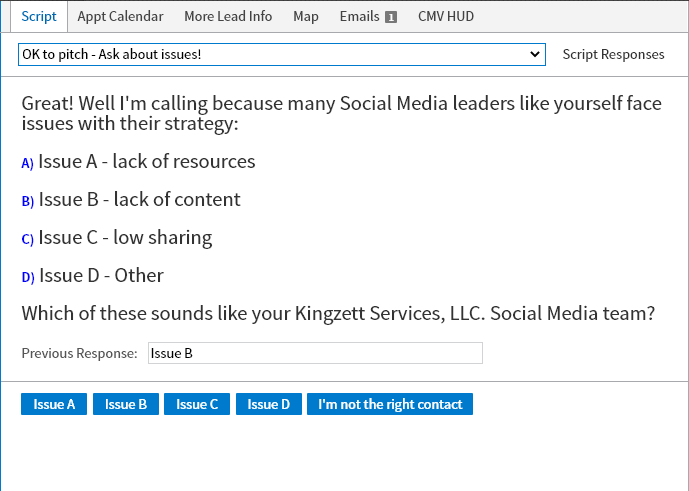 Figure 3: Call Scripting provides dynamic branching for handling both likely responses and objections.
Custom fields are created in the admin control panel. When creating a custom field, you can choose its visibility (where and when the field or data shows), the permission level (for editing the value or viewing the field in contact search), the field type (how data is entered in the field) and the data type which defines what kind of values can be saved in the custom field.

Custom fields are always optional fields. This means that you can create a new custom field without requiring existing contacts to be changed. The existing contacts will contain no value for the new custom field.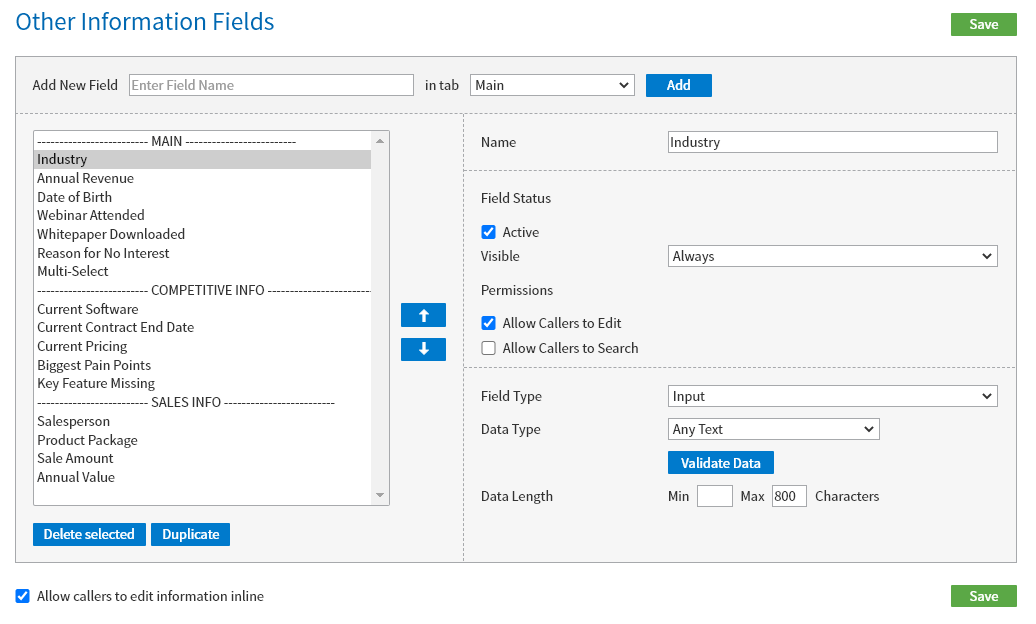 Figure 4: Building custom fields in the Admin Control Panel.
Custom fields allow users to build their campaigns in the way that works best for them. Custom fields can providing vital, industry specific information to sales agents, or allow them to collect details essential to a successful sales process," said VanillaSoft. "This is especially relevant when VanillaSoft is part of a larger tech stack that needs to pass data back-and-forth."

The following contact fields are standard: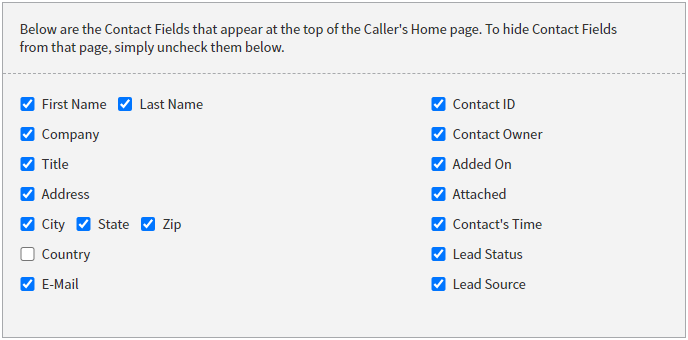 Figure 5: Standard Contact Fields.
Common custom fields include industry, revenue, website, website downloads, and webinar attendance. They are also used to collect additional technographic and competitive intelligence such as the CRM in use, competitor or complementary platforms, and key requirements. These fields can also be used to gather market intelligence for objection handling and product improvements. One popular field is "reason for No Interest".

They can also be used to collect sales information, such as quoted price, product purchased, and sold price.

Finally, custom fields can be included in lead scoring. Depending on how the sales manager wishes to set priority, custom values can be used to increase or lower the lead value when setting up filters. For example, date of birth could be used to set priority for insurance agents selling specific types of insurance targeted at seniors.
Social
Social steps are managed outside of VanillaSoft. The firm is in discussions with LinkedIn for inclusion in their SNAP (Sales Navigator) program.

Rep actions can be scheduled for social media.
Chatbot
RambleChat integration is on the roadmap.
Inbound Messaging
VanillaSoft provides an inbound call solution that goes beyond most sales engagement platforms. Inbound calls result in a screen pop which displays who is calling. The system does a real-time lookup and matches the call to its contact record. With one click, the call is accepted.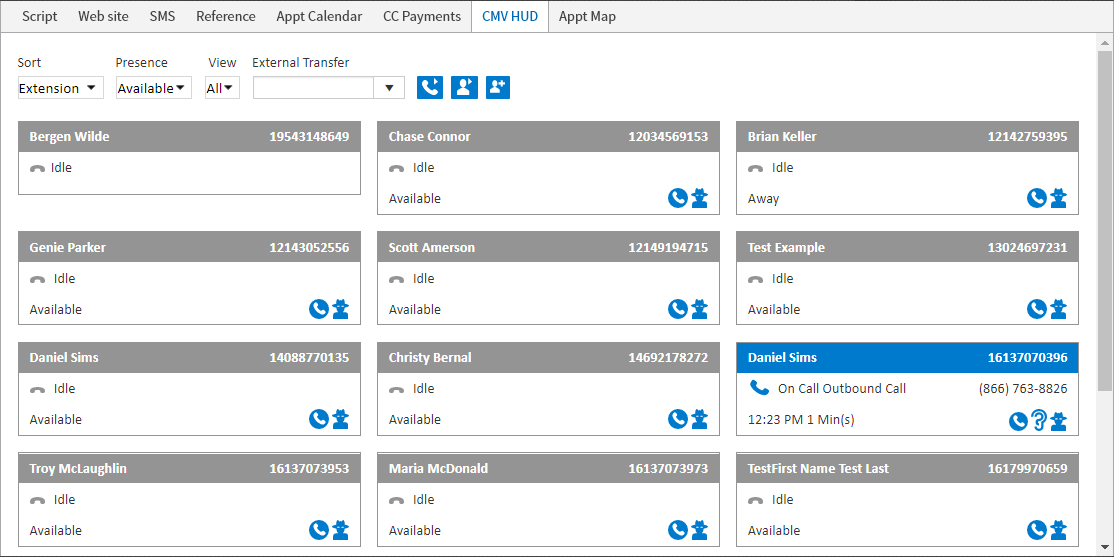 Figure 6: The HUD allows sales managers and trainers to listen in on calls.

The Heads-Up Display (HUD) provides a view of current call activity. Calls may be transferred to other agents, transferred to voicemail, or transferred to external numbers (e.g. mobile phones or third parties). The HUD may be filtered by groups defined by the admin.

The HUD allows the sales manager to sort by extension, first name, last name, call status, sales rep availability, and phone number. HUD allows sales managers to track live activity. It also can be used to train reps and allow more experienced sales reps to assist in lead conversion. Managers can monitor rep calls for feedback/training (listen-only), coach the sales rep live during the call, or even speak directly to the lead where necessary.

HUD permissions are set by the admin. For example, the admin can determine who may be monitored and who may conduct monitoring.

An ACD (automatic call distributor) routes calls to the appropriate agent, team, or department.
Lead Routing
Intellective Routing supports automated next-best call lead routing based upon routing and geolocation filters. Routing filters may be assigned at the individual, team, or group basis. Filters may be copied and modified for individual reps, allowing priority filters to be shared but then adjusted for territories (e.g. geographic, industry).

Leads may be routed by LIFO (Last In, First Out), Round Robin, Call Priority, or User Assignment.

Routing Filters include firmographic variables, contact fields, custom variables, call history fields, email results, and phone fields. Boolean operators are supported along with groups, allowing for fine grain priority ordering.

Advanced Routing filters stack a set of conditions by priority. For example, job titles can be ordered and geographies may be restricted. As a final condition, there is a "route remaining contacts as last priority" checkbox to ensure that non-prioritized leads are worked.

A Top-level filter runs across all leads. For example, it could restrict by geography or lead source.

Once the Routing Filters have been defined, VanillaSoft returns the contact count meeting each priority level. This test helps determine whether any of the priority filters, including the top-level filter, are overly or underly restrictive, allowing for tweaking of the criteria.

Filtering by data source is supported so that leads requiring immediate attention (e.g. inbound web leads) are prioritized over those with a lower urgency (e.g. marketing list leads). Behavior filters such as downloaded whitepaper can also be given higher level priorities.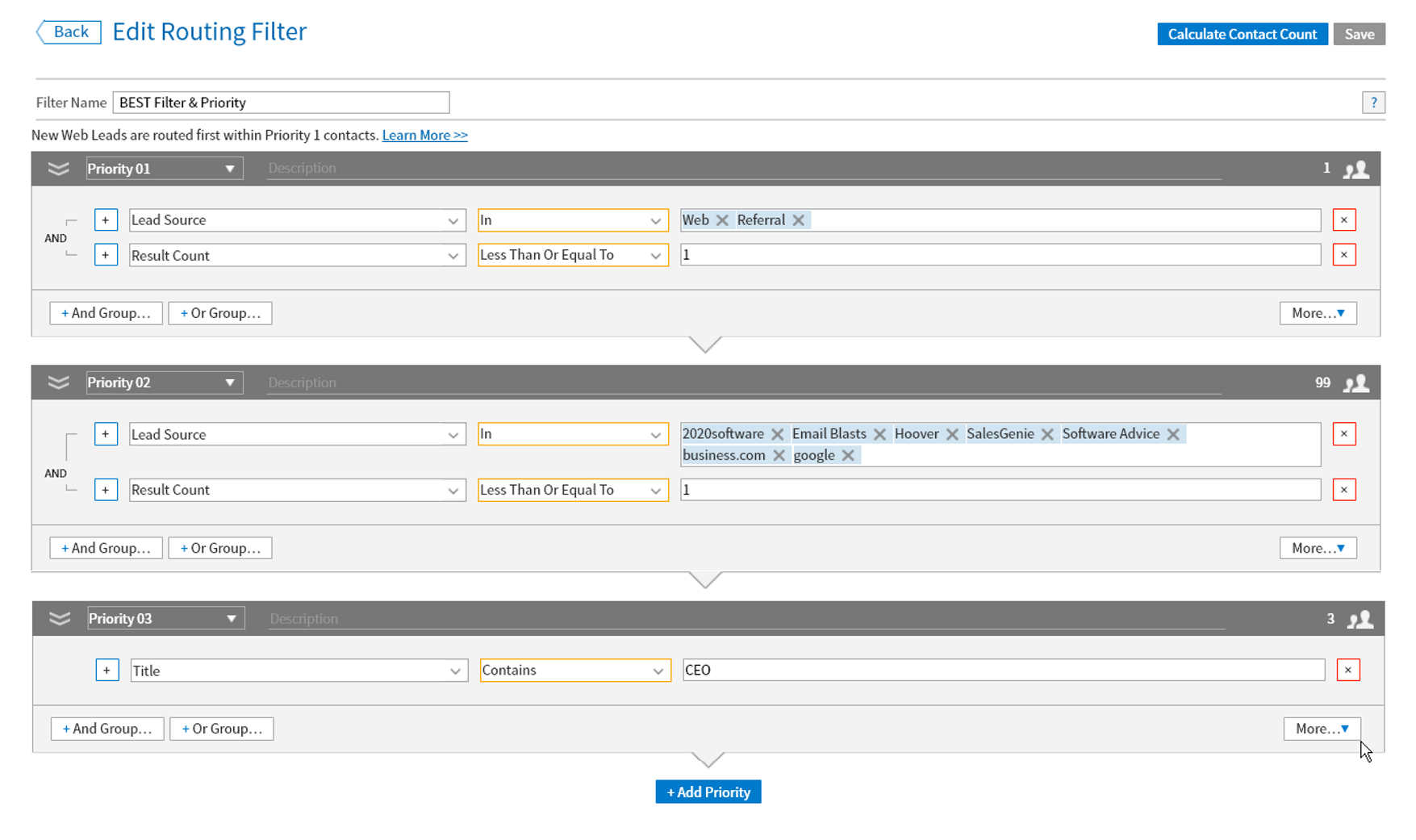 Figure 7: Advanced Intellective Lead Routing Filters set the priority queue based upon multiple, stacked sets of criteria.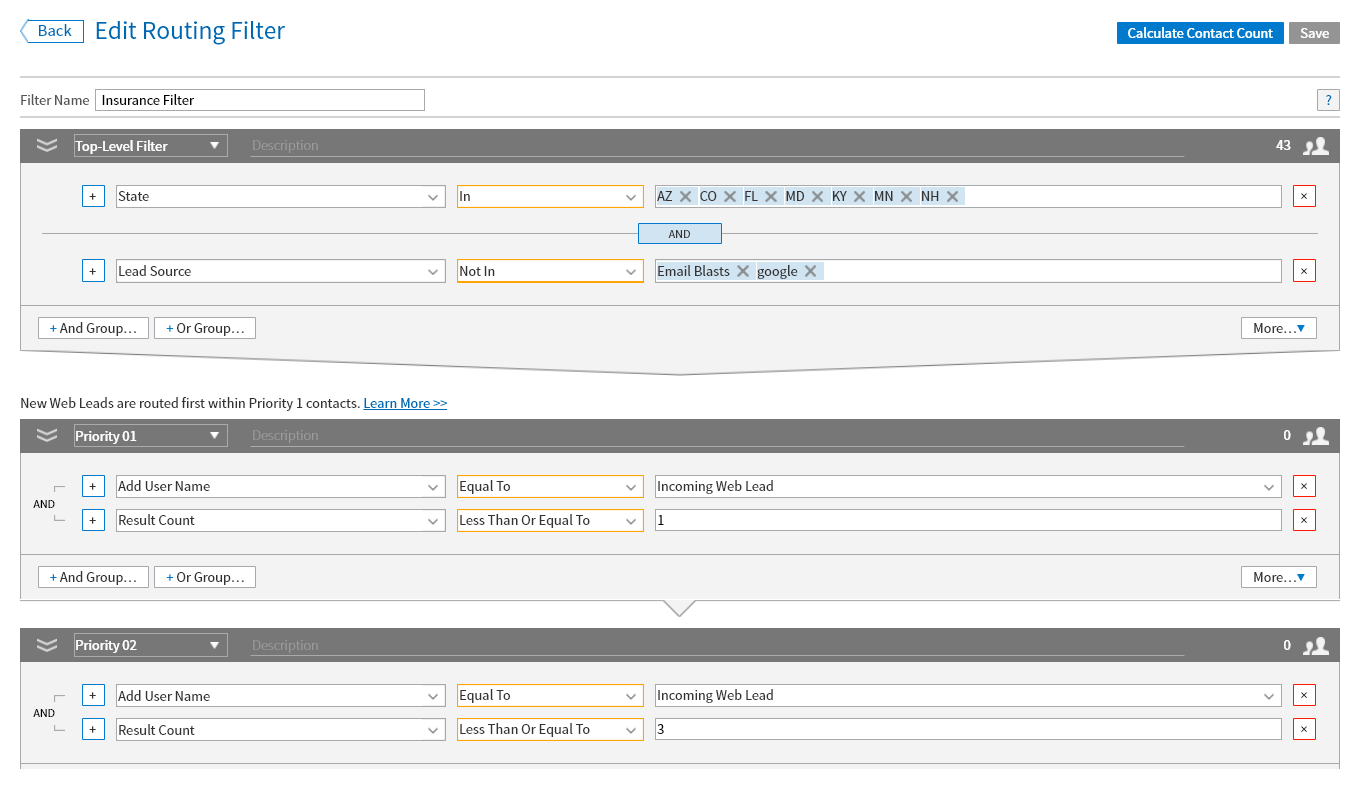 Figure 8: In this example, a state filter is applied to filter for states in which an insurance agent is licensed. Web leads are then given a priority with 0 or 1 calls set to priority 1; if the web lead has been called 2 or 3 times it is set to priority 2.
Geolocation filters provide heatmaps which indicate where contacts are located with blue dots representing a single lead and red a high concentration of leads. Users may scroll and expand the map to view regional (e.g. highways) and local (street maps) details.

Field sales reps can place a polyhedral overlay on the map to identify leads to call. For example, if an outside rep is driving to Oklahoma City to meet with a top client, she can identify additional contacts in or near Oklahoma City. She could also identify contacts along the highway route.

Routing and geolocation filters may be applied individually or in combination. Other routing features include time zone restrictions, lunch break, and calling hour restrictions by country and state.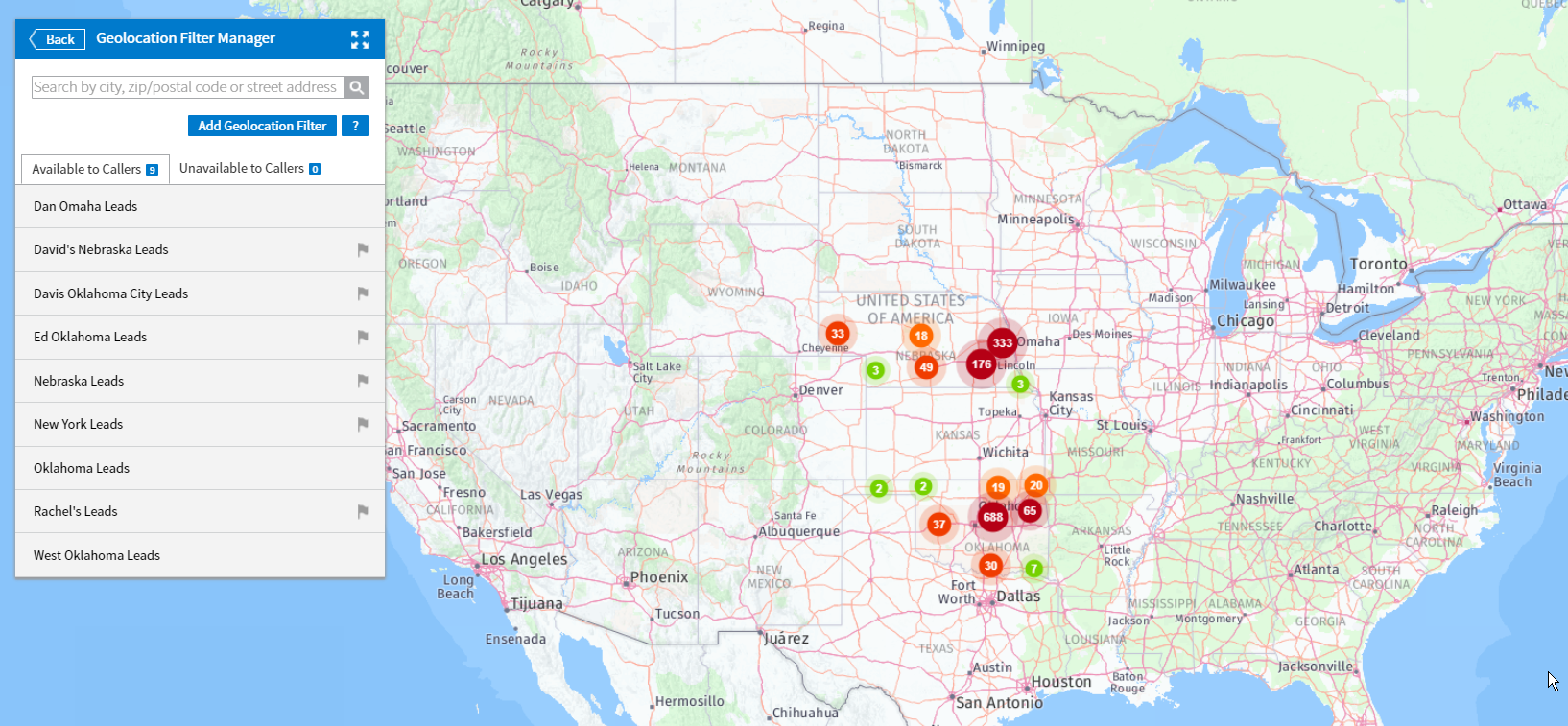 Figure 9: Geolocation Heatmap at the national level.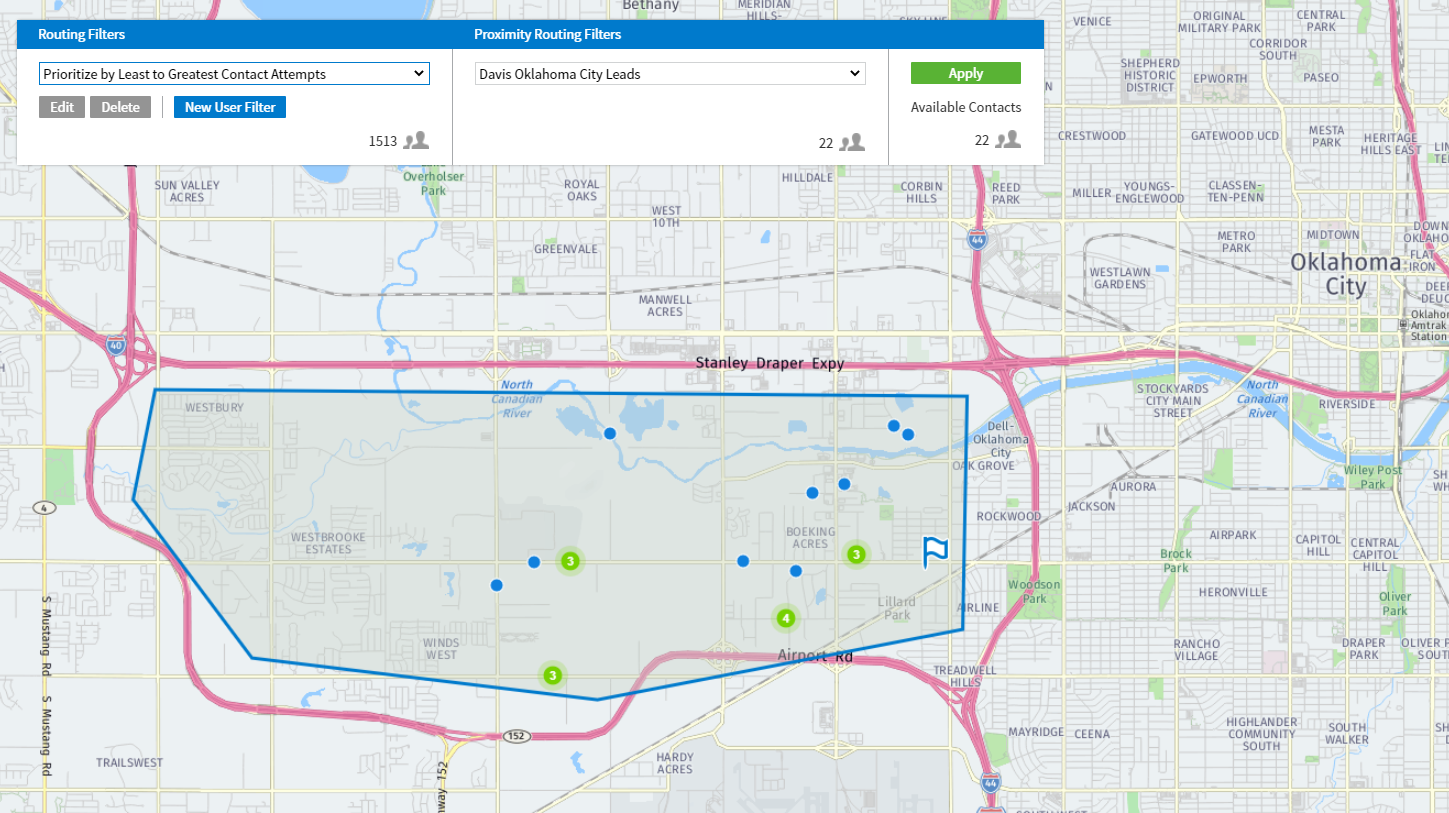 Figure 10: Geolocation heatmap expanded to the street level with a polyhedral filter for appointment setting.
Other Channels
SMS text messages may be sent directly from contact screens with the text history maintained. Functionality includes appointment reminders and SMS templates.
Intra-office SMS messaging is supported while sales reps or agents are on calls

Text messages are stored with contact records.

VanillaSoft users can modify SMS templates (not just the system defined ones) so that agents can make them more personal and avoid "fingerprinting" (telcos recognize the same message being used over and over and decide to block a number). Agents can choose to use the templates created by the admin or personalize their SMS messages.

VanillaSoft plans on implementing SMS drip campaigns using agent-created SMS templates.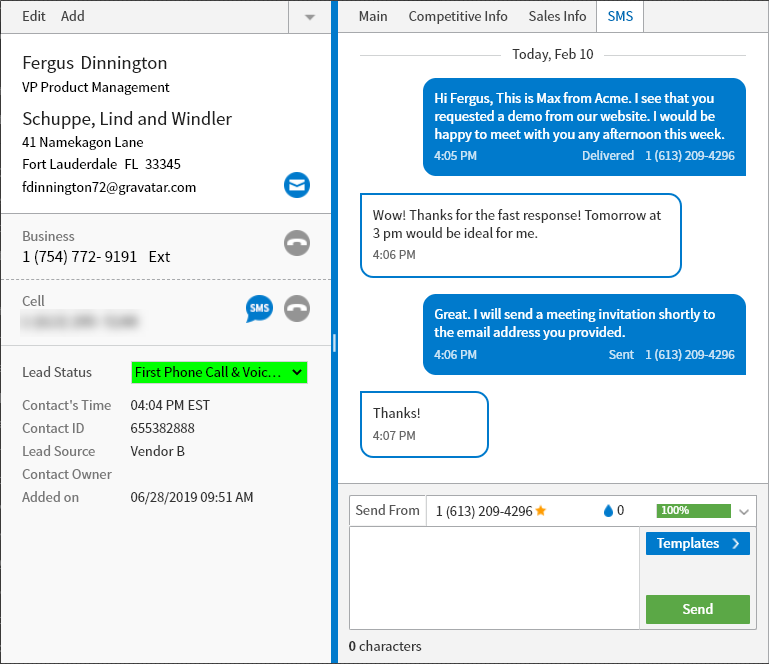 Figure 11: SMS text messages are displayed alongside lead records.
Analytics
A call activity dashboard provides direct tracking of sales activity across teams. Tracked activities include dials, emails, hours, contacts, positive and negative contacts, no contacts, and unreachable. The report is viewable both as a tabular report and chart.

A rep-level dashboard displays the number of calls, hours active, emails sent, number of times a result code was used, and date range.

Sales Operations can develop custom reports and dashboards for analyzing lead campaigns and sales rep performance. According to the firm, "The number of reports possible is limited only by how our customers want to analyze their data."

Sales Operations can filter and segment data using any field for targeted sales and marketing campaigns.

The following reports are available "out of the box:"
Call Activity Detail
Call Activity Summary
Calls Made by Date
Contact List by Add Date
Contact List Filtered by Result Code & Call Date
Lead Status Detail
Lead Status Summary
In 2020, VanillaSoft implemented the Exago reporting engine which supports detailed reports and fields. It also provided enhanced data visualization.

In addition, Admins can schedule weekly reports and merge them into a single, multitab file that is emailed to managers.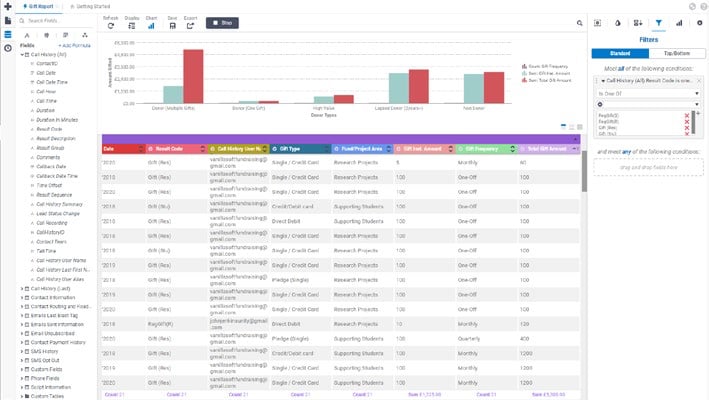 Figure 12: VanillaSoft Advanced Reporting
AI Tools
VanillaSoft machine learning will help prioritize lead lists as they are uploaded to the database, automatically determining which leads require immediate attention. This functionality is targeted for Q3 2021.
Meeting Management
VanillaSoft offers a meeting management tool for scheduling appointments. Appointment setters may view multiple calendars to avoid double booking and see which reps are available at a specific time. All calls are displayed in the time zone of the prospect to eliminate time zone errors.

For field sales, proximity booking schedules appointments close to other appointments or their home / office to reduce the drive time.

A set of data collection prompts ensure that key meeting details and objectives are gathered.

Once scheduled, meeting invitations are sent to both the prospect and the sales rep with follow up email and SMS text reminders to improve attendance rates.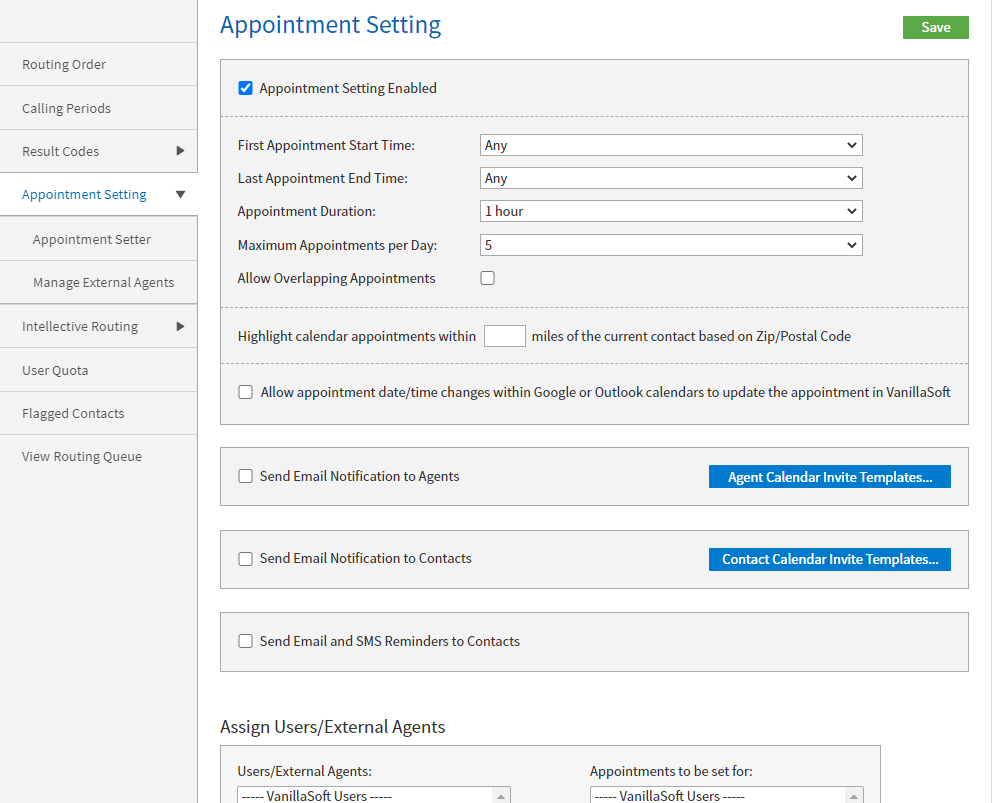 Figure 13: Appointment Setting Menu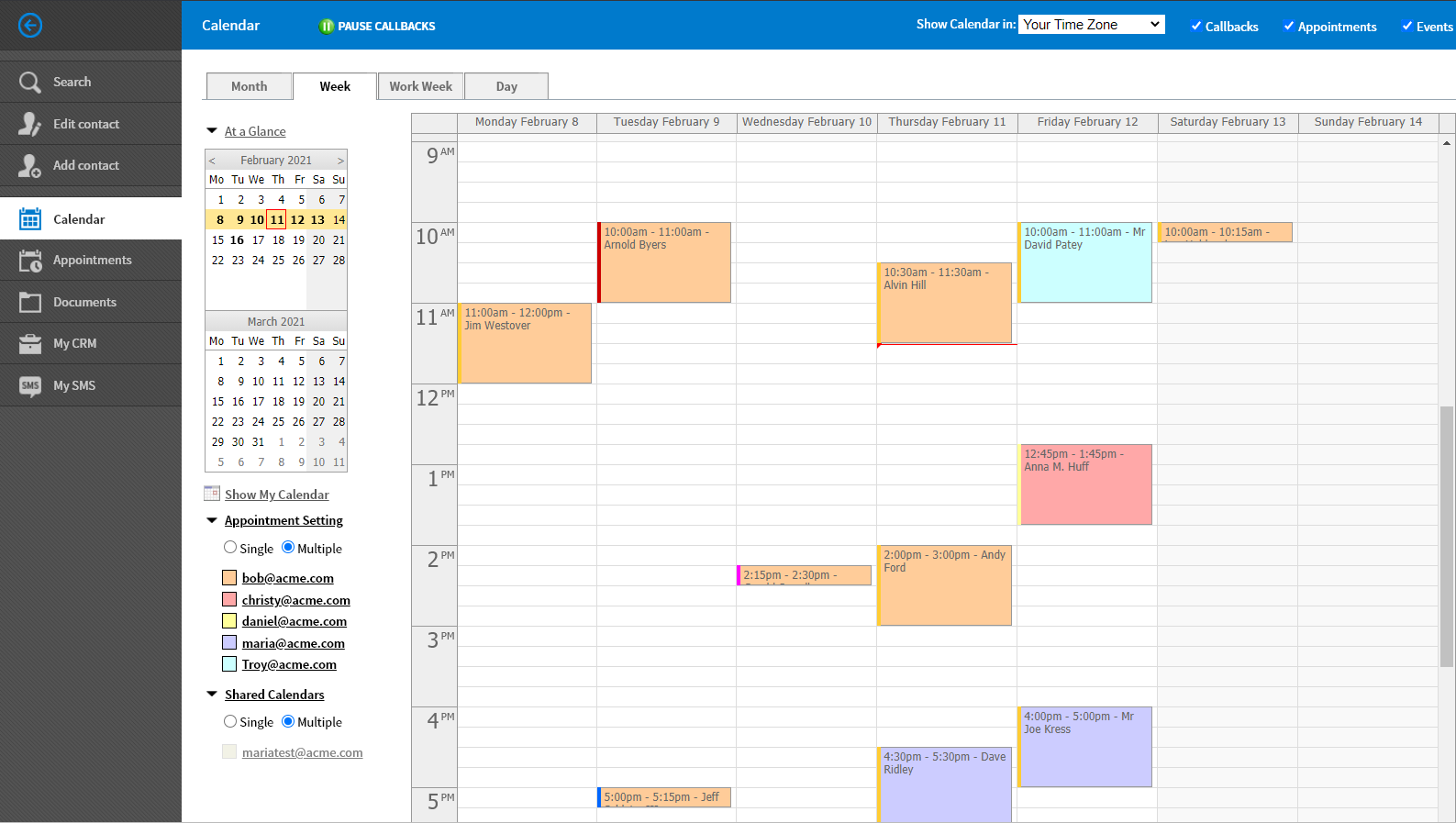 Figure 14: Multi-party appointment setting
Meeting Intelligence
VanillaSoft partners with Refract to provide meeting transcripts. However, customers can partner with the provider of their choice (e.g. Gong, Chorus, ClearSlide).

In March 2021, VanillaSoft was beta testing a Chorus integration whereby VanillaSoft call recordings are forwarded to Chorus for transcription and analysis. Agents will see the Chorus live link icon next to the action record.

Chorus features include:
Call transcription
A call track that indicates when each speaker held the floor.
"Positive Buying words" such as pricing, next steps, product feature discussions, discovery questions, and late-stage signals.
Conversation metrics such as team talk time, longest monologue, filler words per minute, and engaging questions.
Once released, every VanillaSoft user will have a Chorus account supporting call analytics.
Administrative
The VanillaSoft administration portal allows customers to create unlimited projects, add users and establish teams, configure custom contact fields, design and write call/email/SMS scripts, upload content, design the call workflow, configure phone dialing options and call recording, determine the user page layout (view), set-up integrations, import contacts, and build reports.
The system administrator adds and maintains all user ids. There is no limit to the number of users. VanillaSoft does not offer an Excel/CSV upload for account setup.
VanillaSoft admins configure the following:
Importing, exporting, and managing contacts
De-duplication of contacts
Contact searching
Reporting
Field customization (naming, ordering, allowable field content)
Field rights (active, view, search, edit)
HUD configuration (up to 3 additional customizable info panels, customized tabs in the panels)
Set up Projects, which contain users and teams of users
User configuration
Team configuration
Lead filtering and prioritization
Calling periods
User quotas
Access to user queues
Call result code configuration
Workflow/Cadence configuration
Call scripts
Email templates
SMS templates
Content management (email attachments)
Calendar and appointment configuration
Email drip campaign configuration
Dialing options (Progressive, preview, dialing country, dialing/local prefix)
Call recording options
Using local
Integration (incoming and outgoing web leads, lead distribution, Salesforce, DocuSign, Zapier, payment gateways)
Customer reviews gave high marks to platform configurability.
Support and Training
Customer support is available by telephone, web chat, or email. An online knowledgebase is also provided. Customers requiring additional assistance can engage the customer success team. Product updates are provided via email and on VanillaSoft's website.

All customers are eligible to attend a weekly administration seminar.VanillaSoft does not offer tiered levels of support.
VanillaSoft provides a set of training webinars, e-books, and podcasts. The "Inside Inside Sales" podcasts are a set of industry thought leader interviews conducted by VanillaSoft CRO Darryl Praill. Other podcasts include Autoklose's The 0 to 5 Million show and Praill's "The Drive" on The Sales Expert's Channel.
Security and Compliance
The VanillaSoft platform is built on the Google cloud. VanillaSoft lists the following security features at their hosting center:
2048-bit Secure Socket Layer (SSL) technology, using both server authentication and data encryption
User authentication with unique usernames and passwords that are encrypted during transmission
User and session information are kept using advanced security methods based on dynamic data and encoded session ID's
Databases are not directly available from the public internet
Data is stored on world-class redundant storage SAN disks, with backups every 15 minutes.
Our SSAE16 audited hosting center has redundant electrical generators, video surveillance, badge-only access, and state-of-the-art water and fire detection systems
The following GDPR statement was provided by VanillaSoft:
VanillaSoft customers typically act as the data controller for any personal data that they upload into their account, while VanillaSoft acts as the data processor on behalf of customers. Under GDPR, data controllers have a responsibility to use a data processor that provides sufficient guarantees that they are implementing appropriate technical and organizational measures to ensure data processing meets GDPR requirements.
As such, VanillaSoft has put a number of data protection measures into place that will:
Ensure that customer data put into the VanillaSoft system will only be processed in accordance with customer instructions
Guarantee any third-party vendors pass a detailed selection process to ensure they can deliver an appropriate level of security and privacy
Utilize state-of-the-art hosting facilities with strict access controls, multiple internet connections, and backup energy sources to ensure data security
Engage multiple, geographically distributed data centers to minimize any effects of a regional disruption
Carry out quarterly security scans for both network and application vulnerabilities
Ensure that any request for data deletion is complied with quickly, and that data is permanently and irretrievably deleted
Give users a greater degree of control over what data is stored and how it is used by partnering with key compliance software and technology solution providers.
Additional details are available at https://www.vanillasoft.com/data-processing- addendum.
For the healthcare sector, VanillaSoft is certified HIPAA compliant by the Compliancy Group:
"Compliancy Group LLC has supervised and overseen VanillaSoft's compliance since June of 2019. The annual HIPAA Self Audits and documentation show the Company is making a Good Faith Effort in complying with the HIPAA federal regulations. VanillaSoft records show that the Security Rules for administrative, physical and technical safeguards, as well as policy, procedure and documentation requirements are being met. This compliance includes the specifications both required and addressable, under Part 164.308, 164.310, 164.312."
CAN-SPAM (US email) compliance is supported via a detailed blog on the subject. Both Autoklose and VanillaSoft support email Unsubscribe support requests. VanillaSoft also complies with Microsoft and Google sending limits.

To improve email deliverability, Autoklose offers a template analyzer that highlights keywords and phrases that trigger spam detectors. The spam detector both reduces the likelihood that emails will be flagged as spam and improves engagement.

GZ Consulting does not make security or compliance recommendations. As such, we have mostly listed verbatim statements made by VanillaSoft on these topics.
Regionalization
VanillaSoft is only available with an English UI. The knowledgebase is also available in French Canadian.
Currency can be tracked in Dollars, Pounds, or Euros.
Data Services (Autoklose)
In 2020, VanillaSoft acquired Autoklose, making it the first Sales Engagement Platform to own and manage a leads database. Other SEPs have partnered with B2B data vendors such as InsideView and ZoomInfo, but these services simply offer a Send to SEP feature. Autoklose is being integrated into VanillaSoft in 2021 and will provide customers with the following B2B DaaS functionality:
Lead Prospecting with duplicate detection and suppression.
Lead Enrichment to improve company and contact data validity, standardize fields, and append missing fields.
Autoklose is a US contacts database with firmographics, role, level, business emails and phones. Emails are bounce test verified and consumer emails (e.g., Gmail, Yahoo, Hotmail) are removed. Firmographics include the company name, address, size (revenue and employee ranges), and US SIC.

Autoklose supports prospecting and enrichment across 37 million business professionals. All contacts have emails and 85% have phone numbers. Direct dial fill rates are also quite high (60%), letting agents bypass switchboards for over twenty million professionals.

Autoklose is also available as a standalone service for firms in need of leads, contact management, and email engagement tools.

Autoklose standalone features include:
Real-time Reporting and E-mail Tracking
Contact Management
Email Campaign Management
Email Sequence Templates
Lead Prospecting
Team Tracking and Reporting
Scheduled Send
Unsubscribe Support and Do not Email Domain Uploads
Signature Blocks
BCC to CRM
SmartReceive Reply Detection to Filter out Bounces, Unsubscribes, and Out of Office Messages from the Inbox.
Email Auto-verification before Send
Autoklose supports the following platform integrations:
CRM Native: Salesforce, Salesflare
CRM via Zapier: HubSpot, Nimble, Zoho, Act-on, Pipedrive, Copper, and SharpSpring
Inbox: Gmail, Office365
Productivity: Zapier, PieSync, DataUnlimited
Scheduling Native: Calendly
Scheduling via Zapier: ScheduleOnce, Google Calendar
Other via Zapier: Vidyard, MailChimp, Active Campaign, Drip, Drift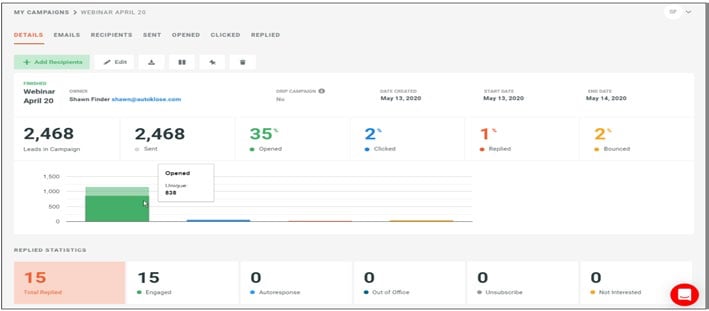 Figure 15: Autoklose Campaign Report
Figure 16: Autoklose Dashboard (Welcome Screen)
Other
VanillaSoft's user interface receives high marks from users on crowdsourced technology review sites. The firm has intentionally built in white space and a minimum of graphics. All of the information and subsequent actions are managed from a single page, eliminating click-throughs.
According to the firm, "Users are working at a computer screen for eight hours per day. Eye strain is a real consequence for users in this environment, and that has a dramatic impact on productivity. VanillaSoft has explicitly developed a visual design that minimizes eye strain and ensures optimal agent productivity."
CRM
A direct integration with Salesforce is available with bi-directional sharing of contact data. VanillaSoft pushes data in real-time to Salesforce based on Result Code triggers. Admins can create or edit Salesforce Leads, Contacts and Opportunities and update Accounts in Salesforce. Admins can also map any object fields (e.g. Last Name, Email, Lead Status) and push tasks and events (meetings) to Salesforce contacts.

Data is managed and pushed from Salesforce to VanillaSoft via the VanillaSoft Unite for Salesforce app. VanillaSoft updates can be pushed real-time or in batch (on demand or trigger based). VanillaSoft Unite is available on the AppExchange and supports both Salesforce Classic and Lightning.

Other CRM systems are supported via Zapier or open webhooks for custom integrations.
Email
G Suite and Microsoft Office are supported. Other integrations are supported through Zapier.
Mass Emails may be sent through Vertical Response.
Dialer
VanillaSoft has integrated with a broad set of VOIP dialers including Avaya, Bria, BroadSoft, CloudCall, ConnectMeVoice IP Phone, ConnectMeVoice Softphone, Covad, eyeBeam, FluentStream, Fonality, Junction Networks, Microsoft Lync, PushDialer (for Mac), RingCentral Phone, RightCentral Softphone, Skype, Skype for Business, Tokumi, and Vonage Business.

VanillaSoft has partnered with Refract to provide call transcription. However, customers can partner with the provider of their choice (e.g. Gong, Chorus, ClearSlide). Chorus transcription will be available as part of the base offering in Q2 2021.
Sales Productivity
DocuSign provides legal signatures for sales contracts and other legal documents in Word or PDF Format. Both the original and signed versions of contracts are displayed in the VanillaSoft contacts screen. VanillaSoft tracks in real-time the Status, Send Date, Delivered Date, and Signed Date for each recipient and flags fully signed documents when they are complete.
Payment Gateways
For fundraising teams (or anyone else collecting payments) VanillaSoft supports multiple payment gateways. These can be accessed from within the VanillaSoft interface, with all financial data and transactions handled by the gateway, not by VanillaSoft.
Authorize.Net
BeanStream
Blackbaud Merchant Services (BBMS)
Bluefin PayConex
CyberSource
Flo2cash
iATS Payments
Payment Express
PayPal Payflow
Paystation
USA e-pay
Video Messaging
The Vidyard GoVideo service is integrated into VanillaSoft at no charge (Vidyard is a freemium service). Sales reps can record personal videos and embed a thumbnail image within templated emails. Archived videos are also supported.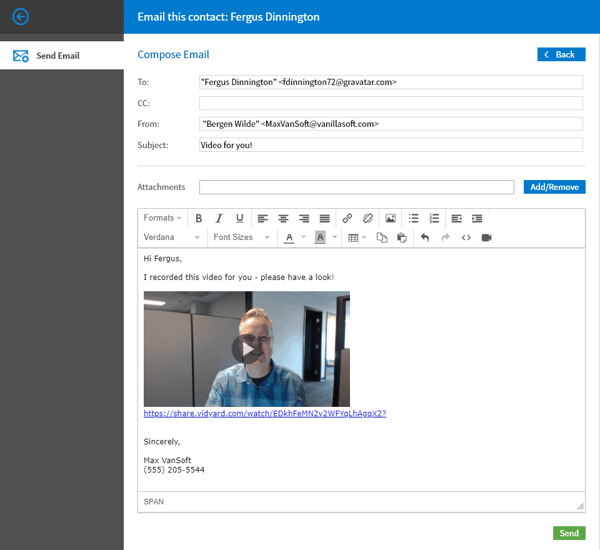 Figure 17: Vidyard videos can be quickly recorded and embedded as a thumbnail within templated emails.
ChatBot
A Terminus Chat integration is on the product roadmap.
2019 – 2021 Enhancements
In March 2021, VanillaSoft was beta testing their Chorus integration. Each VanillaSoft seat will include a Chorus account that supports call transcription and analytics. A Chorus icon provides a direct link to the transcript.
2020 enhancements include SMS personalization, SmartCaller Trust, and implementation of the Exago reporting engine for advanced analytics and visualizations.

VanillaSoft users can modify SMS templates (not just the system defined ones) so that agents can make them more personal and avoid "fingerprinting" (telcos recognize the same message repeatedly being sent and decide to block a number). Agents can choose to use the templates created by the admin or personalize their SMS messages.
With SmartCaller Trust, VanillaSoft registers customers' phone numbers as legitimate business numbers with the entire telco ecosystem. By doing so, SmartCaller Trust removes ambiguity about the caller, which prevents the call from being flagged as a scam/spam or from being blocked.
The Exago reporting engine supports detailed reports and fields and improved data visualization.
Admins can schedule weekly reports and merge into a single, multi-tab file that is emailed to managers.
2019 enhancements include geographic functionality and Vidyard GoVideo integration. New Geographical Information System (GIS) capabilities include proximity routing, directional routing, geolocation filters, and automated time zone features. The new GIS functionality helps field sales reps maximize their client and prospect routing.
VanillaSoft noted that, "with many sales reps clocking far in excess of 25,000 miles per year, the ability to group accounts by area and conduct efficient outreach is critical." Directional routing provides reps with optimized maps for visiting leads. The feature is assisted by proximity routing which identifies leads by radius around a ZIP code or a point. For example, a sales rep can identify leads within a fixed distance of a prospect.
Geolocation filters employ geocodes for customer mapping, helping sales operations group leads by city, neighborhood, and street for lead assignment. VanillaSoft also looks at the rep's calendar to call out nearby appointments which may warrant rescheduling to optimize field sales rep planning.
"You can work either with latitude and longitude, or with ZIP code. This gives companies a functionality that I'm not aware is available on any other sales engagement platform. For appointment setting, for companies that have salespeople out on the road, and also for understanding where your customers and prospects are and to be able to target them geographically, this is an incredibly powerful functionality," said CEO David Hood.
Vidyard's GoVideo personal video messaging service was integrated into VanillaSoft, allowing reps to embed pre-recorded and personalized videos into emails.
"Making a human connection between salespeople and their prospects is critical for sales success," said Vidyard CEO Michael Litt. "We know video is a powerful tool for sales engagement and leaders in the space like VanillaSoft see the potential of this technology for their users."
VanillaSoft publishes a running release notes document which covers recent enhancements and bug fixes.
2021 Plans
VanillaSoft has an extensive list of 2021 plans that include the integration of Autoklose contact data into the VanillaSoft platform, enhanced email management and tracking, personal sales nurturing, SMS channel enhancements, and usability enhancements.
VanillaSoft will be the first full SEP to offer a contacts database natively. When implemented, users will be able to purchase bundles of contact records with phones and emails. Contacts will be assigned to cadences, allowing for reps to immediately begin outbound communications.
Email enhancements include inbound email management and enhanced email tracking (e.g. The number of times opened, clickthroughs, replies, unsubscribe).
Email management lets users receive and reply to emails from within VanillaSoft - like a true email client. Sales reps do not need to check Gmail, Outlook, etc. for incoming email. The whole email chain is captured in VanillaSoft.
Personal Sales Nurturing functionality will let agents send email drip campaigns from personal emails instead of a marketing bulk emailer. The agent will retain campaign visibility, even when sent through the personal email channel.
The priority queue will adjust calling times based upon the optimal call window. The optimal time will vary by lead to ensure calls are placed when they are most likely to be picked up.
VanillaSoft plans on implementing SMS drip campaigns using agent-created SMS templates.
To reduce the risk of message blocking, reps can send from multiple numbers or use locally assigned numbers, so the messages appear to be locally originated.
VanillaSoft is planning additional partnerships with vendors such as Terminus Chat and Chorus Conversational Intelligence (meeting transcription and analytics). The Chorus integration will be available to all users in Q2 2021.
VanillaSoft will be rolling out vertical editions with industry-specific "skins." The verticalized user experience will highlight information and tools that are commonly used within the vertical and remove non-relevant features and messages. The initial skins will be for higher education / fundraising and insurance.
One of the features of the new skins is 508 VPAT compliance that supports the visually impaired with adjustable screen contrasts and support for screen scraping readers. The education / fundraising skin, scheduled for September 1, 2021, will be the first 508 compliant skin for agents. VanillaSoft plans on being fully VPAT compliant by the end of 2022.
The Autoklose Enterprise edition is adding gamification, predictive analytics, and custom automation.
VanillaSoft offers a sales engagement platform that receives high marks from customers for configurability, flexibility, and support. Not only does it support core sales engagement functions (e.g. cadences, templates, dialer, analytics, appointment setting), but it also supports telemarketing, fundraising, and inbound sales. The diversity of their verticals and use cases supports unique deployments beyond the tech sector.
While VanillaSoft is fully capable of supporting technology companies, it is not overly reliant on the tech sector for revenue (18%). This means that the firm is well positioned for the next recession. VanillaSoft is both growing and profitable. They have been in business for over fifteen years and grew revenue 32% last year.
With offices in the US, Canada, the UK, and Serbia, VanillaSoft is well positioned to support overseas sales offices and call centers.
When the Autoklose integration is completed later this year, VanillaSoft will be the first full Sales Engagement Platform to own and maintain an integrated leads database for prospecting and enrichment.
VanillaSoft employs a priority queue which serially presents the next best lead to call. The priority queue is dynamic, allowing for real-time adjustments based upon event triggers. Events include web forms submissions, buyer intent data, user behavior, data changes, third-party integrations, time past last touch, etc. VanillaSoft ensures that contacts are cycled through a minimum number of call attempts (as set by management) before the lead is downgraded or dismissed, ensuring that marketing qualified leads aren't ignored by sales reps and that reps have multi-channel lead persistence.
Call-scripting supports dynamic branching, allowing sales rep to handle various responses and objections while still sounding natural. Scripting pulls in lead data so that reps stay on script. Sales or marketing operations can build in objection handling and competitor details to assist with managing landmines, parrying competitor arguments, and highlighting key differentiators. Script responses can be immediately captured and keyed into custom fields, allowing for the direct collection of lead intelligence. Custom fields are available for reports, data segmentation, and scripts for data collection.
Lead scoring is completely customizable. Score values and/or criteria can be added to custom fields for reporting and priority evaluation.
VanillaSoft offers mapping and trip planning tools to assist field sales reps. Geolocation filters provide heatmaps which indicate where there is a high lead concentration. Field sales reps can place a polyhedral overlay on the map to identify leads to call. Routing and geolocation filters may be applied individually or in combination.
While VanillaSoft does not yet offer a partner ecosystem, they support Salesforce, Gmail, Office 365, VerticalResponse, Vidyard GoVideo, DocuSign, Refract, and a broad set of dialers. Zapier provides additional connectors.
VanillaSoft is designed for hierarchical sales organization with management defining lead prioritization, cadences, and scripting. This makes it easy for sales execs to shift priorities on the fly and implement them immediately.
Resources
The following resources are available: