One of the most important elements of successful sales engagement is persistence— how many times you go back to a prospect or lead and connect with him or her. To persist means "to continue steadfastly or firmly in some purpose or course of action." That's a fairly accurate depiction of the type of consistent follow-up and determination that yields concrete results for sales professionals.

According to a LinkedIn post by business success expert Angela Smith, 48% of leads never get followed up on by sales representatives, and 25% of the sales professionals stop after the second contact. Another 12% ceased attempts after three contacts. In fact, just 10% of sales professionals persist after three contacts with the prospect.

Maybe that doesn't sound so bad— after all, they tried a few times, right? But the data shows that two or three attempts just aren't good enough, because 80% of sales are made after 5-12 contacts (Elkington & Oldroyd, 2016; Haliva, 2015). This research is backed up by the Telfer Study, an extensive report recently conducted by the Telfer School of Management on behalf of VanillaSoft.
Five to twelve contacts— that's a startlingly large number of touches in order to achieve sales success. The trick, of course, is being persistent without being irritating to your potential client.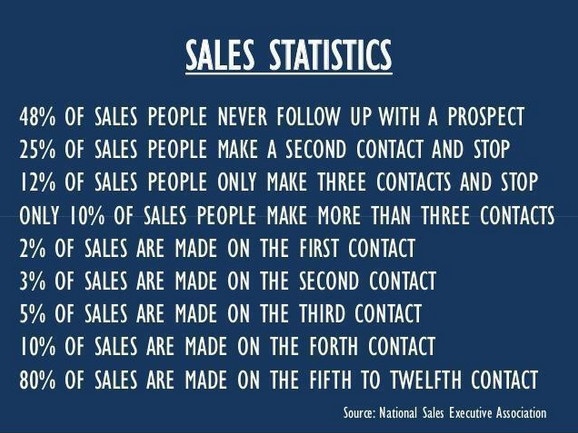 So why don't sales professionals make more attempts if it's so important?
What's preventing them? What're the consequences of not making the requisite number of contacts?
Download to Read Later

Types of Engagement
In the modern era, there are a number of useful ways to engage with a prospect. By using a mixture of these methods, you can figure out which one the client prefers— i.e., which one will be least annoying and most effective.
The types of engagement that seem to work best for modern prospective buyers include phone calls, texts, emails, and instant messages, plus the tried-and-true direct mail piece. According to sales strategists, you'll see more than double the success rate when you use two communication methods instead of just one with your prospects. An increase of an extra 3-5% occurs when you add in a third communication method.
Speed-to-Lead
Another way you can be persistent without damaging the client connection is by helping your sales development representatives become faster and more reliable in their follow-up times. How soon do they get in touch with a prospect after the trigger event? That's the speed-to-lead, the time that it takes for your team to make the first contact with a new prospect.
The Telfer study shows that the ideal time window for contacting a web lead is between 10 and 60 minutes after they reach out to you. In fact, calling within the first 30 minutes is nearly three times more likely to end in a successful outcome than calling as soon as the lead arrives or waiting more than 24 hours. Unfortunately, an AA-ISP Lead Study found that the average time it takes for sales reps to contact a new lead is 38 hours, and that means you're leaving a lot of money on the table. Don't let a hot lead grow cold!
Sales Cadence
Beyond engagement methods and speed-to-lead, you enter the more complex area of sales cadence— the rhythm your team uses when contacting a potential customer. How much time elapses before the next followup attempt? What's the gap between second and third outreach, and so on? The type of messaging, the mode of communication, and the spacing between contact attempts is all crucial to landing that sale.

We're going to review all of that and show you how patience, persistence, and proactive engagement can revamp your selling strategy and lead to a notable leap in your sales successes. Of course, this rewiring of your current strategy might involve altering your pipeline a bit. You may need to think about new sales engagement software that can quickly route the incoming leads to your reps so you can get in that first contact within the recommended speed-to-lead window.

These are significant changes, and change can be uncomfortable. But with these adjustments comes a dramatic increase in productivity, which leads to a boost in sales— and those extra profits are good for everyone at your company.