Now let's come back to the R-E-P-L-Y Method, mentioned earlier, to learn how you can prevent shitty emails in your sales outreach.
You may have heard the phrase, "Don't sweat the small stuff." An email might look small but remember that often the little details can lead to the most significant wins. Sweat it when it comes to email. Emails need to be more direct and 'to the point' in their style, mainly because people who read are often skimming.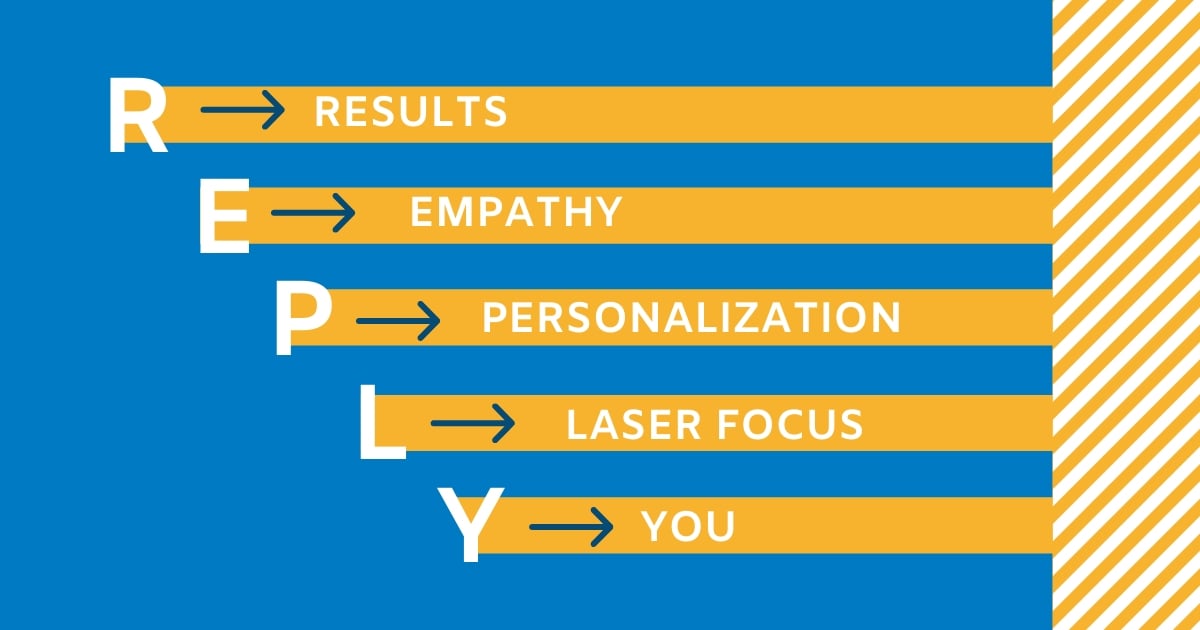 Often, salespeople struggle to begin an email; it's a challenge filled with plenty of time, backspaces, and frustration thrown in. Building templates using the REPLY method can alleviate much of the pain of writing sales emails. Using templates and continuously fine-tuning them can drastically improve your game.
This kind of semi-automated approach is about effortlessly addressing your prospect's pain points in a contextual and personalized manner. Here is a sample email that followed the REPLY Method to the T.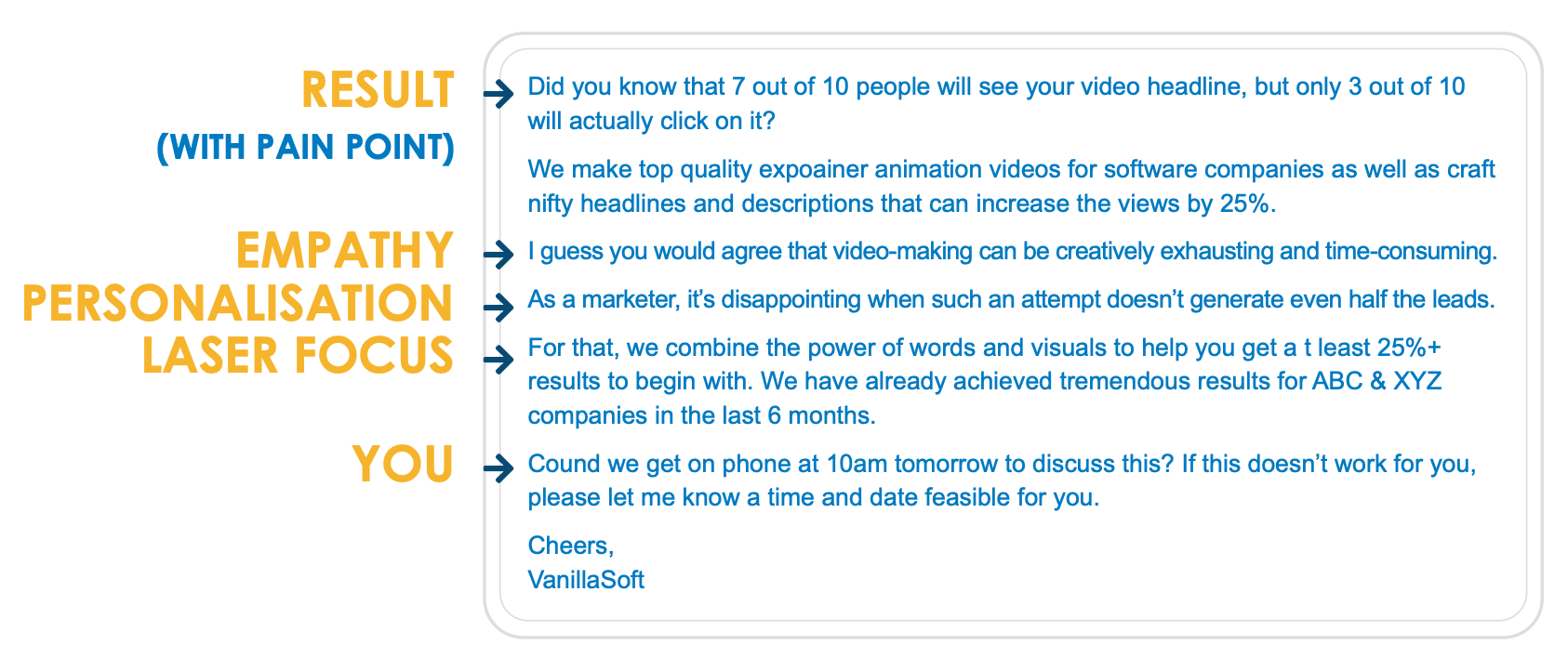 R - Results
A results-centric statement hooks the prospect right away, especially if it is a number/solution that can impact their business. Supplement that statement with how your solution will achieve the result (see example), and you have the Result part down pat.
Often, salespeople's excitement about their product blinds them to the fact that the prospect has no idea what they're talking about. Trust us; no prospect has so little to do that he or she is happy to entertain random emails that offer no substantial result.
Vague claims are plain annoying. Period. Let your email unravel the answer to your prospect's first question, 'what's in it for me?,' in the first couple of sentences. In other words, you're baiting them to read on to the call-to-action.
E - Empathy
Being empathetic to the prospect's cause involves addressing specific challenges this recipient faces and deliverables he or she requires. Most prospects receive generic messages and 'invitations to connect' every 20 minutes. They hit delete/spam buttons faster than you can say 'wait.'
Senders often forget that there is a human behind every screen. Writing a compelling sales email requires you to weave together insights gained through phone calls and research to create a message that resonates with the reader. Never forget that a sales email is about your prospect, not you the salesperson.
In the R-E-P-L-Y example above, the sender is aware of how disappointing it can be if the video doesn't work after all the time and effort put into it. It is even likely that the recipient's company failed in its video marketing efforts in the past. In one strike, the sender is acknowledging the pain of video-making while offering a solution.
P - Personalization
Salespeople are often under tremendous pressure to 'finish the lead list within two days or a week.' After a point, they may push out emails without caring about the content. That's bad, and the results will reflect that lack of care. Personalizing your emails can save you much effort and secure more leads.
Don't you love it when somebody addresses you personally - 'Hi ABC' as opposed to a plain 'Hello'? However, personalization has become much more than the use of the first name over the years. Your emails must demonstrate that you understand specific, personal pain points and should offer solutions that are relevant to the recipient.
'He or she understands where I am coming from and makes a compelling point.'
'I feel like a human and not some random email ID on this person's list.'
You make a prospect feel like a person rather than a target on your contact list, and you will be much more likely to get at least one reply or call back.
L - Laser Focus
Prospects are usually busy bees. Even if they're not, they may have other tasks that they'd prefer to tackle than reading 'shitty' emails. Attempt to keep your emails to no more than four to six sentences (approximately 125 words). Said another way, your message should fit within the screen of a standard smartphone without having to scroll. Let every sentence be a critical hit – results, empathy, and personalization -- so that your contact might at least read and remember rather than skim and forget.
Most importantly, please don't forget to be specific when you request an appointment to take the conversation further.
Y - You
Ever had an experience with a date who seemed interested in talking only about him-or-herself? Or that colleague who talks over everyone? Such I-me-myself communications and self-centered emails never warm the prospect to the sender.
'I would love to talk to you about this.'
'We have this awesome idea that can solve the global climate crisis.'
'I'm reaching out to introduce myself and see if we can have a 10-minute chat about the product this week.'
Can you spot the remotest interest in prospects or their pain points in lines like these?
Like Jack says, start with removing the I's and We's as much as possible. Take a cue from the R-E-P-L-Y sample email from the beginning of this section; make your content about the recipient and not about the sender. Ensure your emails build trust and pave the road to a long-term relationship.