Whether you're a veteran cold caller just starting with social selling or a social seller who wants to improve your cold calling skills, there are some foundational steps you need to take to ensure success on both fronts. Let's delve into those foundational areas now.
Optimise Your LinkedIn Profile for Post Cold Call Views
Regardless of whether your first touch is a cold call or a social message, you need to optimise your LinkedIn profile. Why? The people with whom you connected online or spoke to on the phone will want to learn more about you. Show them you are worth their time by putting your best foot forward with a well-constructed and optimised profile.
Pay close attention to the elements below. These aspects can make or break your presence.
Profile Photo
Let's start with one of the most critical components of your profile, your profile picture. We've seen some great ones and some not so great ones over the years. We know it's not always easy finding a suitable photo to use, which is why we often see photos from weddings (usually the last time you had a nice picture taken when you dressed smartly!). These days, the reality is that most people reading this will have a smartphone with a pretty powerful camera, so next time you're in the office get a colleague to take a decent headshot against a plain background and boom, perfect profile picture!
Background Image
Behind your profile photo is space for you to upload a background image. Please don't ignore this part; it's fine to choose a plain background or upload a generic one. However, remember that you can create a custom one for free using Canva. You can include your company logo or mission statement or even your contact details, something that looks professional, catches attention and builds your brand.
Your Headline
The next step is the headline. This field is often just populated with your job title, which is fine. However, you can be a little more creative and make it more about what you do or what you can offer.
For example, Daniel uses LinkedIn to grow his personal brand, so his headline talks about him, but you might want to discuss what you provide or how you can help your target customer. The headline is also an excellent place to put searchable terms that will aid potential prospects in finding you. Words or phrases that include your industry and "sales" are very helpful such as "Pharmacy Sales Professional" or "Computer Technology Sales".
You could also try using something like: "Helping people do X by using Y to solve Z."
Summary Section
This section is your opportunity to give a nice elevator pitch. It should include a summary about you, what you can offer, achievements that help prove your ability to deliver and your contact details.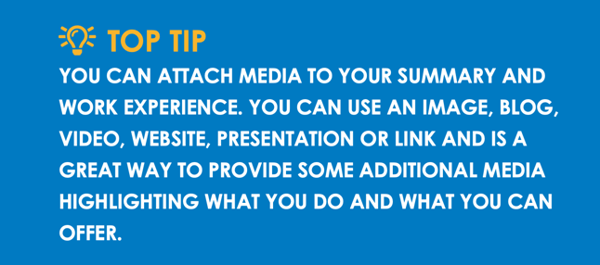 We know your contact details are available on your profile, but you should want them to be as clear as possible so putting them into the summary box helps make them even more visible. Including your contact information here is also crucial since your summary is the only info that shows up when people view LinkedIn on a mobile device. Save your profile visitors time by not requiring them to search any further than your summary information to get in touch with you. As silly as it sounds, this extra effort could often mean losing a sale.
Articles & Activity
This area will show all of your activity on LinkedIn including posts you liked, commented on or shared. This section will also show the blog posts that you wrote on LinkedIn. Articles & Activity is another place your prospect may look so it's important to be aware of what content you like, and how you engage with others, as your prospects may see it.
Work Experience
This section is for you to list your past and current work experience. Less is often more in these sections but give your prospect the opportunity to see what experience you have and how it may relate to your ability to provide value to them.
The Work Experience section is also an excellent place to include a little more about your current company and what makes them different/unique. There is also the ability to add media, so you can link the company website, include your sales pitch presentation, a video and media that will help the prospect buy into what you do.
Featured Skills & Endorsements
This section is one of the real standout features of LinkedIn as both a fantastic recruitment platform and sales platform. In this section, potential buyers can see areas where you have been endorsed.
For example, if you were selling software and your prospect could see that others have endorsed you for "Software", "Account Management", "Customer Service" etc., it helps them feel more comfortable buying from you.
Recommendations
Taking it one step further, not only can people endorse you for skills, but they can write a full personal recommendation! Imagine how powerful it would be if you're selling software and your prospect visits your profile and sees several recommendations from other software companies talking about how much you helped them, saved them money, listened to them, etc. Don't you think this would make them want to work with you more?
Accomplishments
The Accomplishments section provides you with an opportunity to list any courses, certifications or awards that you've received. A prospect viewing your profile and being able to see your qualifications, adds some real power to how potential customers perceive you.
Interests
You might not think this would be important to a prospect but think about this, they look at this section and see that you were interested in key industry companies or pages, it would show them that you're interested in their business and helping them to succeed.
EXTRA QUICK PROFILE TIPS
Keep it up to date. Make sure you're updating it regularly.
Create a simple, personalised link for your LinkedIn profile.
Add your personalised link into your email signature.
Include the link on your business cards.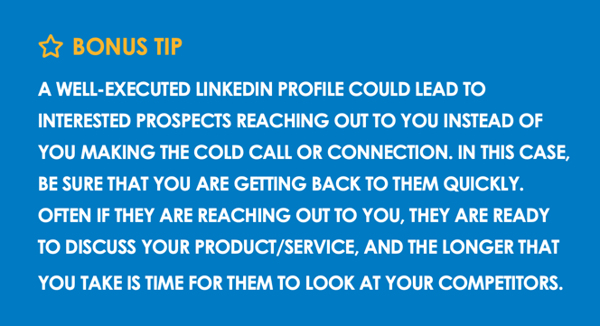 Improve Your Cold Calling Skills
We've discussed how to get your social presence in order for the post-cold call credibility check. Now, let's review ways to improve your cold calling game.
Cold Call Role-Playing
Yes, very few salespeople actually enjoy call role-playing, however,
you can improve your performance with this exercise. Ask a colleague or your manager to spend some time practising different call scenarios that you are likely to encounter. Here are a few recommendations to get the most out of this exercise:
Start with a Script - A script gives you a foundation for the call and guides you where to go. You don't need to read the script. Treat it as a guide in both your roleplaying and live sales calls.
Don't Just Focus on What You're Saying; Practice Listening, Too - The best cold call role-playing will make you work on your listening and comprehension skills. The best cold callers take time to hear what the prospect has to say. He or she will also listen for non verbal clues -- the tone of voice, pauses, and so forth -- to gauge the person's trust and interest levels.
Practice Dealing with Rejection - Don't allow your role-play partner to give you easy wins, especially if you're new to or uncomfortable with cold calling. Ask your partner to make some calls end with rejection. You need to practice dealing with rejection and reminding yourself that rejection isn't personal.
Treat the Exercise Seriously - Don't just blow through the roleplaying scenario to get it out of the way. Treat it seriously and follow out each scene to its conclusion. Talk to your partner about what went well and where you can improve.
Remember to Practice Your Voicemail Message, Too - In this day and age, the chances are that you won't always get a live person on the line. Practice your voicemail delivery and ask your partner to critique you. Consider using a voicemail script, too.
Ask for Feedback - If your roleplaying partner isn't giving you feedback, ask for it. You need to hear constructive criticism to help you improve your technique.
Call Recording Reviews
Another way to take your cold calling efforts to the next level is to review recordings of your live calls. You can do this alone or with your manager or a colleague.
Listen to the full call together first. Next, run back through the conversation pausing the recording to discuss both the high points and the opportunities for improvement
Do you have a sales playbook or documented sales approach? Below, we've outlined some of the basic stages to think about for successful social selling with cold calling outreach.
Pre-Cold Call Prospecting and Research
Discover Ways to Build Connections with Individual Contacts
One common tactic while prospecting is seeking out conversation starters and common ground. If you're walking into someone's office, you might look for photos of family, paraphernalia from sports teams or even books.
Online, a lot of that information is available within their social media profiles and content. With a little social research, you can warm up those cold calls using the following types of information you can often find on social profiles:
Decision maker names.
Location.
Position/role and information about it.
Groups they're a part of.
Pages that they follow.
The content they've liked and commented on.
The content they've created.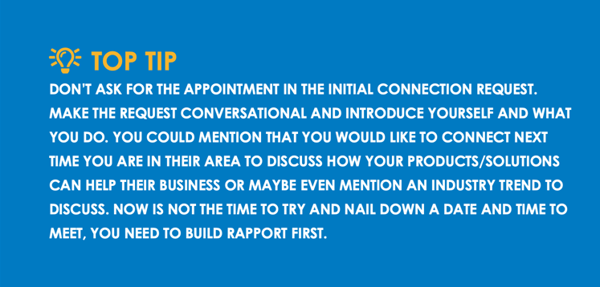 Research the Needs of Your Prospects
Making sure that you are targeting the right customer and offering the
solutions that will maximise their profits is critical in building a funnel of profitable prospects. It is important to understand your prospects' needs and how you can help them to attain their goals and initiatives.
To prepare and make sure that you are not calling on the wrong prospects or offering them solutions that don't fit their needs, do your research. There are many methods that you can use to do this research, and a good place to start is on the internet. These days, all companies have websites, and most have a social media presence.
Look at the prospects' company websites to know what they do. See how they engage with their followers on social media, what events are they talking about or hosting. Their interactions and events are vital clues to how you may be able to help with your solution or product.
For example, if you sell custom-made widgets and you notice that they have a public event coming up, this becomes the perfect opportunity to talk about your product and how it can help them to advertise and keep their business in people's minds after they leave the event. Knowing your prospect's information before going into a meeting shows that you understand their business and have done your homework.
It is also important to ask your current customers for any information on their peers and initiatives that they may have going on. They will likely know better than anyone since it is their job to know what their competition is doing just like it is your job to do the same.
We will also mention here that LinkedIn engagement and connection is always a good idea. Don't be shy about reaching out to prospects, introducing yourself and asking for a connection. Often if worded correctly in the connection request, you can get an appointment easier when the time comes.
Live Call Method and Technique
You have done your research, and know what the prospect's goals and initiatives are. Now it's time to set an appointment and determine your cadence for sales engagement and follow up. However, the bestlaid plans can go south quickly. It is best to reach out to the prospect via phone first then follow up with an email or a private message on social media. We would not recommend a text at this point since you have not established a relationship with them, and text tends to be a more personal form of communication.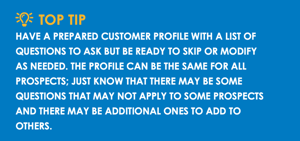 If the meeting is more than a couple of weeks away, be sure to follow up and stay engaged with them. Once you have the meeting, be sure that you truly know the prospect's business. They will test you on it. More importantly, be prepared to listen more than you talk. Have scripted, open-ended questions prepared beforehand that dig deeper into their business and be ready to change your approach based on the conversation.
The prospect is not expecting you to come in with guns blazing to help solve all their problems at the first meeting. However, they do want you to be prepared and be ready to answer any questions. They want you to listen and understand their business and their needs, if that means scheduling a follow-up meeting to talk about your solutions, then that is what it takes.
Continued Engagement and Prospect Conversion
Be sure and stay engaged in the conversation and listen carefully for clues on what they are looking for and how fast they want to move on the project. These clues will help you in determining if you need to adjust your follow up schedule or your approach with the customer. Be sure and ask open-ended questions and take notes. These notes will be used later to make sure that you are documenting your visit as well as following up on items properly, so they don't have to be perfect. In other words, don't get so caught up in writing that you miss something in the conversation.
Follow up and consistency is key in leading the prospect to becoming a loyal customer. Be sure that you reach out to the prospect immediately following (no more than 12 hours) the meeting and thank them for their time. Also, be sure and let them know that you look forward to continuing the conversation and Sales Engagement, Simplified 16
Prospecting through Post-Call Follow Up The Ultimate Guide to Prospecting review any critical points from the meeting that you may be checking into or that may be relevant to the next meeting. If there are items that they were going to get back to you on, be sure and outline these and include date expectations as well. It is important that you set a clear sales cadence expectation and stick to it to keep them engaged and keep the momentum moving forward. An email template can be set up for this follow-up, just be sure that you are putting in the information that pertains to the particular customer and not making it too generic.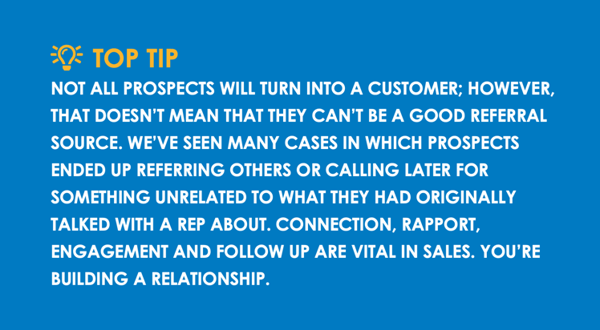 Staying engaged with the prospect and later customer will help you to build a stronger funnel and referral network. Stay in contact with the prospect but don't overdo it. Statistically, 80% of sales are made after the fifth contact and before the twelfth, but only 12% of salespeople follow up more than three times. It's extremely important to stay consistent and keep engaging after that first cold call.
A few critical factors in increasing engagement is making sure that you are connected on social media. As previously mentioned, building relationships by posting engaging, relevant content and posting positive, helpful comments on your prospect's posts help build rapport.
Scheduling Cold Calling & Social Selling Together
One of the biggest challenges in integrating social selling is finding time to do it. For many salespeople and sales teams out there, their days are already fully booked! Where are you supposed to find time to write blogs, engage in content, add people and research them? The first thing to realise is that to be successful on social doesn't require you to spend hours and hours each day on LinkedIn. You achieve amazing results from as little as 30 minutes per day. The key is to schedule it in around what you're already doing.
For example, during your scheduled email time, spend some time researching social media or looking at industry news. You can also plan some time at the beginning of the day to go over what you want to accomplish for the day, your schedule and catching up on industry news. Since you are doing this at the beginning of the day, it is normally before other distractions taking over your time. Also, as you have a break during the day, take the time to scan social media.
Most importantly, treat social media time as prospecting and research time. It is key to understanding your sales funnel.
So, You Are Probably Thinking, What's Next?
👉 Build a social media profile that will make prospects want to do business with you.
👉 Start building your network of connections with prospects, influencers and even competitors.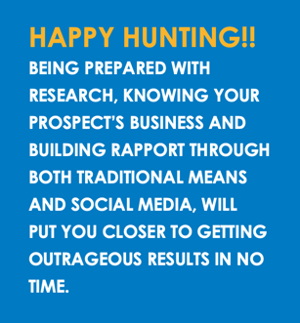 👉 Engage with relevant content to demonstrate your subject matter expertise.
👉 Practice sales calls through roleplaying with a colleague or your manager.
👉 Listen to recordings of your calls -- with a colleague or your manager if possible -- and critique your performance. Make a note of successes and areas for improvement.
👉 Reach out, make appointments, and RESEARCH prospects.
👉 Set up a cadence for sales engagement that includes varying forms of communication including social selling and cold calling. Remember: don't use just one, use MANY.
👉 Be persistent and consistent.
👉 Build a profile document with scripted open-ended questions, and make notes on this to put in your sales engagement platform to help you remember to follow up on items for your email later
👉 FOLLOW UP, FOLLOW UP, FOLLOW UP!! This action is very important in your sales engagement and cadence!